Well, nothing better than in the company of Fellow Mark Master Masons who are also members of the Ancient and Honourable Fraternity of Royal Ark Mariner.
A message to those of you still to take this step, it is not a giant leap of faith as, first and foremost, it is only available to Mark Master Masons. It is based upon the story, known to all, of Noah building the Ark for the preservation of mankind from the Great Flood; the ceremony is different, stimulating and rewarding, Most of you who have not taken this step will have seen the Rainbow Jewels and the Rainbow Collarets worn Holders of Royal Ark Mariner Grand and Provincial Grand Rank; any one of them will be delighted to answer any questions you may have.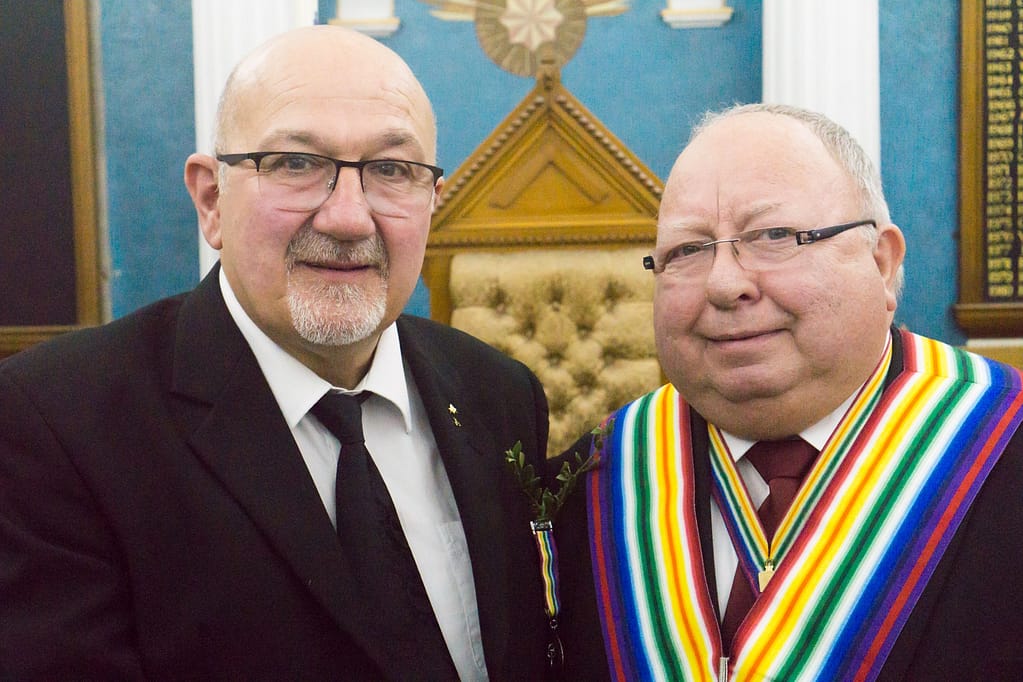 And so it came to pass at Thorne Masonic Hall on Thursday 23rd May 2019, that Brother Michael Richardson of Thorne Lodge of M.M.M. No.1004 took the step having had already concluded that this was for him.  The ballot proved positive he was admitted and Elevated the Worshipful Commander, W.Bro.Alan Corbridge and his Team. This was  a team event in the truest form as, initially nerves were in evidence but this soon passed and all witnessed a ceremony of supreme quality. Throughout Bro.Michael was under the careful guidance of the Senior Deacon, Bro.John Brandon aided the Junior Deacon Bro.Tony Ibbetson. The Signs and Secrets were delivered in imperious style W.Bro.Andrew Close and, if that was not spellbinding enough, along came Brother, not a Past Master, Harry Richards to enunciate the Working Tools and explain the Triangular perambulation. These are complicated pieces of Ritual which I have seldom seen delivered better. This phase of the Ceremony was then concluded W.Bro.Bob Corfield, P.Dep.P.G.M. maintaining the very high standards set his colleagues, no surprise there.
Having been invested with the Badge and Jewel of a Royal Ark Mariner, Bro.Michael took his seat in the Lodge. A moment of light relief in the Almoners report given W.Bro.John English, apparently W.Bro.Mick Ricketts had been under the weather recently which John immediately dismissed as 'Old Age'.
The Festive Board was then well received which W.Bro.Bob Winterflood, the Worshipful Commander of the Carl Whitehead Lodge No.110, described as one of the best roast beef dinners he had ever enjoyed. The Toast to the Worshipful Commander was in the hands of the S.W., Bro.Martin Corfield who thanked Alan for his leadership of the Lodge since his Installation particularly for his steady hand on the tiller, responding W.Bro.Alan warmly thanked all who had taken part emphasising , it was a Team effort. The most important Toast of the evening, that to the candidate , was submitted his Proposer, Bro. John Brandon who advised that Michael was involved in dealing with Adults who have learning difficulties, a most rewarding task but where patience is undoubtedly a virtue. He is a good ritualist and will prove an asset to the Lodge. Bro.Michael responded appropriately but made particular mention of the Warder, Worshipful Brother Malcom Boyle who had kept him entertained until his admission, there you are Brethren all the offices have their uses.
Dates for your Diaries;
Grand Lodge of M.M.M. Communication 11th June. Acting and First Appointments Honours.
Charity, Annual Holiday at St Annes, June 23rd. To the 29th.
Sheffield Combined Lodges Meeting, Wednesday 24th July
Finally, the evening began in sombre mood whilst W.Bro.Ian Smith spoke movingly about the death of Worshipful Brother Stuart Grantham who had died recently. Whilst he rose to become the Deputy Provincial Grand Master in the Craft Province of Yorkshire West Riding, he was also a very keen Mark Mason and Royal Ark Mariner who had attended the practice whilst battling his condition. Ian concluded reminding all that if Stuart were present he would have said, have a dram and move on, a lovely Man and Freemason.