Bram Morley Lodge of R.A.M. No.1905Wednesday, 3rd July 2019 , Blenheim House, Batley, and the Installation of Worshipful Brother John Edward Ryder Davies. A retired Banker, aged eighty nine years and determined to have very good year, I seem to have said this before but it now changes, as the Worshipful Commander of the Bram Morley Lodge of of Royal Ark Mariners No. 1905; a repeat of last November when he was Installed in the Chair of the James Bramley Morley Lodge of M.M.M. No.1905 which he still occupies.The first business was for the acting Worshipful commander, W.Bro.Tony Llewllyn to explain the absence of the W.C.Craig Kidd, which he did in a quite amusing fashion. W.Bro.Craig was in Birmingham in the hope of fulfilling a lifelong dream to become a Member of Parliament, he has been chosen as a candidate for a Party.. However, as we must eschew any references to Politics or Religion, I can say no more other than it could turn out to be a right 'farrago', but all power to his efforts, we may get an invite to No.10. no you fool not Downing Street, Railway Cuttings.. The Lodge was then opened the W.Bro Tony who welcomed the Past Asst.Prov.G.M., V.W.Bro.John Fred Clough, Personal Representative of the P.G.M also Past Prov.G.M., R.W.Bro.Brian Batty. A successful ballot then followed for W.Bro.Roy Mallinson as a Joining Member and Bro.Mathew Toplis as a Member, both Bram Morley lodges are fully justifying their Consecration.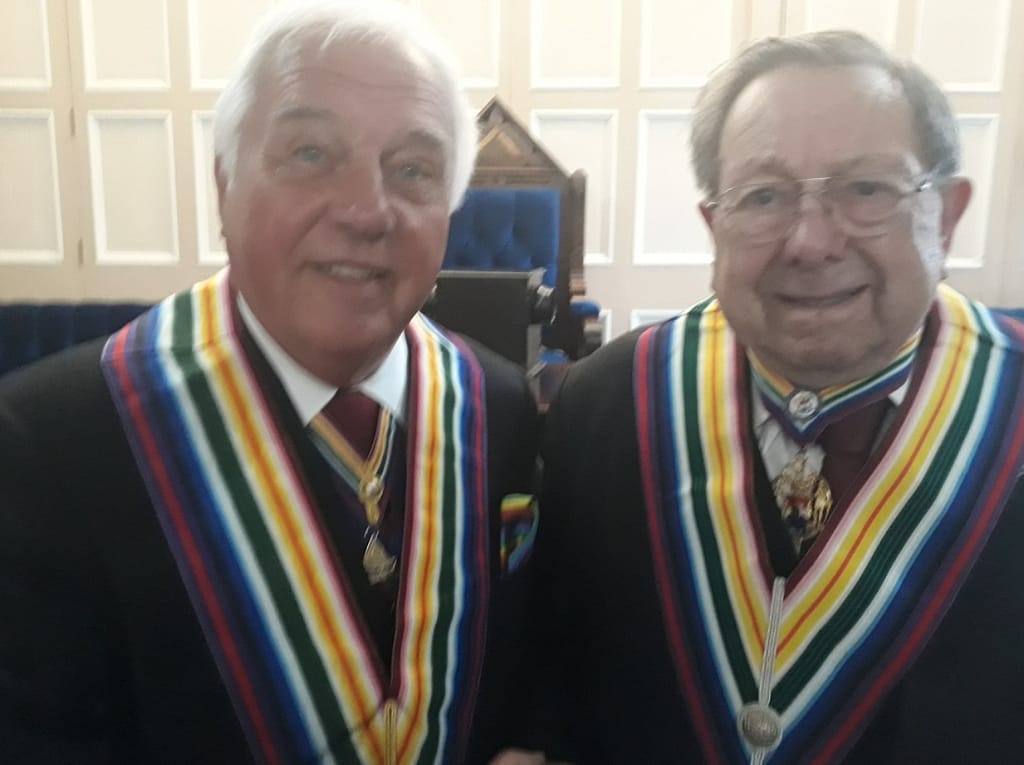 The focus of all attention then turned to Bro.John Davies and the Installing Commander, W.Bro.Tony. Initial enquiries satisfactorily negotiated, Brethren below the Rank of Installed Commander withdrew, an Assembly of Installed Commanders was formed and W.Bro.John as he had now become, was placed in the Chair, a very smooth and professional Ceremony. Brethren were readmitted and W,Bro.John Appointed and Invested his officers, no surprises and good to see that W.Bro.Stephen Wood, a Founder of the Lodge will, all being well, take the Helm in 2020. The Keystone Collaret, a relatively new addition to the regalia of the Lodge, was then explained in perfect order W.Bro.John English and presented to the W.C. W.Bro.Tony. W.Bro.John once again took the floor and, word perfect, Addressed the W.C.; this would take a lot to follow, but he did, R.W.Bro.Brian in a calm, clear and unhurried fashion delivered the Exposition in superb style, a pleasure to witness, congratulations to all for a very fine Ceremony, beautifully choreographed the D.C. W.Bro.David Staniforth.
Remaining business was then speedily concluded and adjourned to the bar, the whole Ceremony taking a mere ninety minutes. A most welcome Festive Board consumed, the Toast to the Province was submitted Bro.David Howe who began referring to us all as Sailors on the Sea of Life, wow not heard that before, were we in for a literary masterpiece. Well he did most certainly follow the accepted line, we are very reliant upon our Provincial, and Grand, Lodge Officers who are frequently the backbone of the Lodge and we must offer them our sincere thanks for all they do; this should assure him of preferment in the near future, but he was right and this was echoed V.W.Bro.John Fred in his response. He then drew attention to Royal Ark Mariner Grand Rank and the fact that our Province will reduce from five to three appointments per annum, it will now be calculated on Member numbers not Memberships, and these will largely be taken those who require it for their Office presumably Rulers. Fortunately we do have the West Yorkshire Royal Ark Mariner Distinguished Service Award to offer some recognition. John finished reminding us that we are all lucky to be members of the Fraternity and the message for our Mark colleagues, yet to take the step , is Come and Join Us.
Dates for your diaries; 24th July, Combined Sheffield Lodges Meeting at Tapton, the Assistant Grand Master will be joining us.5th October, Provincial Royal Ark Mariner meeting at Tapton where those receiving Provincial Honours will be invested.10th September Grand Mark Lodge Investiture meeting for those receiving Past Grand rank promotion. Another day to be there for our West Yorkshire Brethren.30th November Gala Ball, Mercure Hotel, Bingley, 8th December Carol Service at Brighouse,10th December, Grand assembly of Royal Ark Mariners at Grand Lodge, support our Brethren receiving Grand Rank. A most enjoyable Royal Ark Mariner installation.
Worshipful Brother Duncan Smith P.G.S.D.Communications Manager