He may not look old enough but on the sixteenth of April 2020. Gilbert celebrated a mile stone achievement, sadly this will not be with the Brethren of his Lodge for some time, when he celebrated fifty years as a Mark Master Mason, a member of Castle Lodge No. 1257..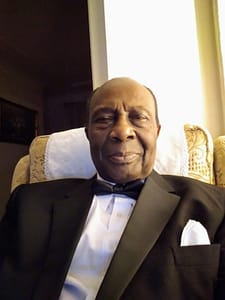 Born and bred in Sierra Leone, he was initiated into Delco Lodge No. 1624, District of Sierra Leone and Gambia in 1967, the ceremony being conducted his Father, Gilbert Oshille Jarrett who was Past Master of Tranquility Lodge and a founding member of Delco making Gilbert a Lewis; he received his 50th Certificate in the Craft in 2017.
Delco under the Scottish Constitution meant that he became a Mark Master Mason on the 16th May 1970. Subsequently he came to the United Kingdom where he joined St Wilfrid Lodge No.6395 in 1981, Master in 2002 and 2017 and he now holds the rank of P.Prov.J.G.W. He then found his resting place in the Mark at Castle Lodge No.1257 joining on the 1st April 1985 in the company of some very worth Brethren, stalwarts of the Lodge which Gilbert is also now regarded, being Raymond Ince, Donald Blackburn and David Readshaw, wonderful people, great memories. Master in 1992 , he now holds the rank of P.A.G.D.C. which was conferred in 2010.
Having established himself in the Mark, the Ancient and honourable Fraternity of Royal Ark Mariner beckoned and he was Elevated into Pudsey Lodge No.658 in 1994, Worshipful commander in 1998, he did not hang about. As an Installed Commander he qualified for the honour of membership of the Carl Whitehead Lodge No.110 which he joined in 2002, his RAM journey culminating in the award of Royal Ark Mariner Grand Rank in 2016; a wonderful story.
He is much admired all he meets, a true gentleman, and should have been in the Chair of Castle again in April but coronavirus stepped in to spoil the party, His Provincial Grand Lodge Certificate has been delivered post, the Grand Lodge Certificate a victim of lock down; with luck he will receive it at a Lodge meeting later in the year. In the meantime he continues to work assiduously in his various Masonic duties, prompting one Brother to say, we love him to bits, this was echoed others, he should be very proud.
Stay safe Gilbert.
Worshipful Brother Duncan Smith P.G.S.D.
Communications Manager