Congratulations to the Perimeter Perambulators who today completed their 230 mile journey around all the Lodge buildings on the outskirts of our Province. What a fantastic achievement and well done to everyone involved.
Richard Puttrell and Steve Spooner walked the full distance, despite various injuries on route, Edward Wilkinson only missed out on a few days due to work commitments, and many others took part and walked with them on various sections of the route over the past 12 days.
Well done to all concerned, not forgetting the backroom boys led Jason Cunningham, who organised the paperwork and recorded their progress on the Web site and Facebook. Also to all the Ladies and brethren who met, greeted and refreshed them at Masonic Halls and those who put them up for the night and helped them with luggage transport etc. A real team achievement and they have all Marked Well.
The donation website will remain open for the next few weeks, so if you have not yet sponsored them you can still do so via the link below. It's quick and easy to donate. Any Lodges wishing to sponsor them can still do so by cash or cheque to their Provincial Charity rep. They have all walked for an excellent cause.
Finally, many thanks to all of you who have already donated tothe event. It is the only Provincial Festival event to be sponsored this year, so please keep up your own Lodge Festival events and fundraising. They are all so greatly appreciated.
In the meantime, Richard, Steve and Edward tell me that they will not be now moving until Monday !!
God bless them – and best wishes to you all.
Jim Steggles.
Please support them following this link https://mydonate.bt.com/events/perimeterwalk/476892
Back to where they started at Whitley House after 12 days on the road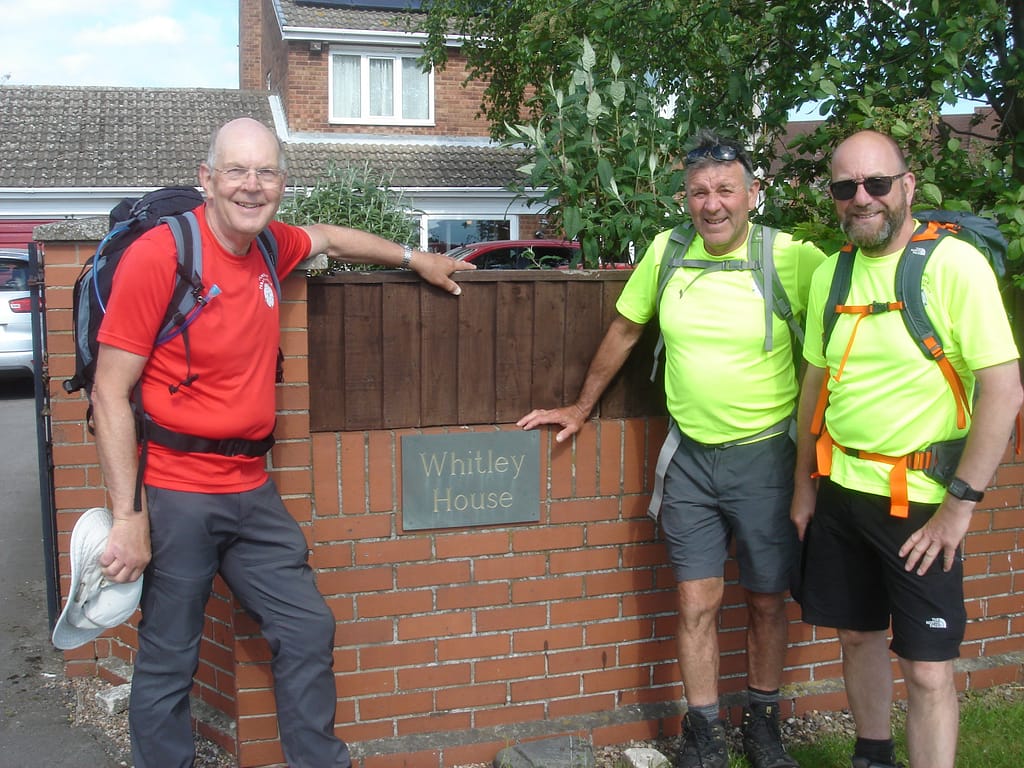 With plasters on some of their toes
But they were glad to be back
And the Champagne appeared
And was eagerly poured
Cheers
And consumed
With chocolate cake at the end of a fantastic 12 days
Please support them following this link https://mydonate.bt.com/events/perimeterwalk/476892