Very much a team effort and rightly so as the outgoing Worshipful Commander, W.Bro. Keith Harmer has been rather poorly but he was not about to shirk his responsibilities and, with the help of the IPC W.Bro. Richard Brown, produced a resounding success.
After the Lodge had been opened we were to receive the Deputy Provincial Grand Master, W Bro, Alan Oldfield but sadly he could not attend, a serious dose of Bronchitis. The Provincial Grand Master, R.W.Bro. James Steggles, G.M.R.A.C. stood in to represent himself, which I have to acknowledge he did pretty well., he is a member of Claro RAM. He was offered the gavel but politely declined with the comment' nice try though'.

The Commander Elect, Bro. Alan Beardmore was then presented the D.C. W.Bro. Mark Holland and the Installation began, those below the Rank of Installed Commander leaving the Lodge for a short while after the Officers had been thanked for all their efforts in the past year, THREE Elevations Brethren, beat that. W.Bro.Richard then took the reins and Obligated W.Bro. Alan. The Signs and Secrets were done W,Bro,Keith, the Badge and Cellar of W. C. presented and W.Bro. Alan was duly placed in the Chair, and the Assembly of Installed Commanders closed. the Brethren were then re-admitted and W.Bro. Alan was Proclaimed as W.C. for the ensuing year, R.W.Bro. Jim then presented and explained the Keystone Jewel. The Appointment and Investiture of the Officers for the year smoothly followed whereupon W.Bro. Ian Mackenzie Addressed the W.C., a beautiful piece of Ritual well executed; that also applied to the Exhortation W.Bro. Richard Brown very clear and authoritative.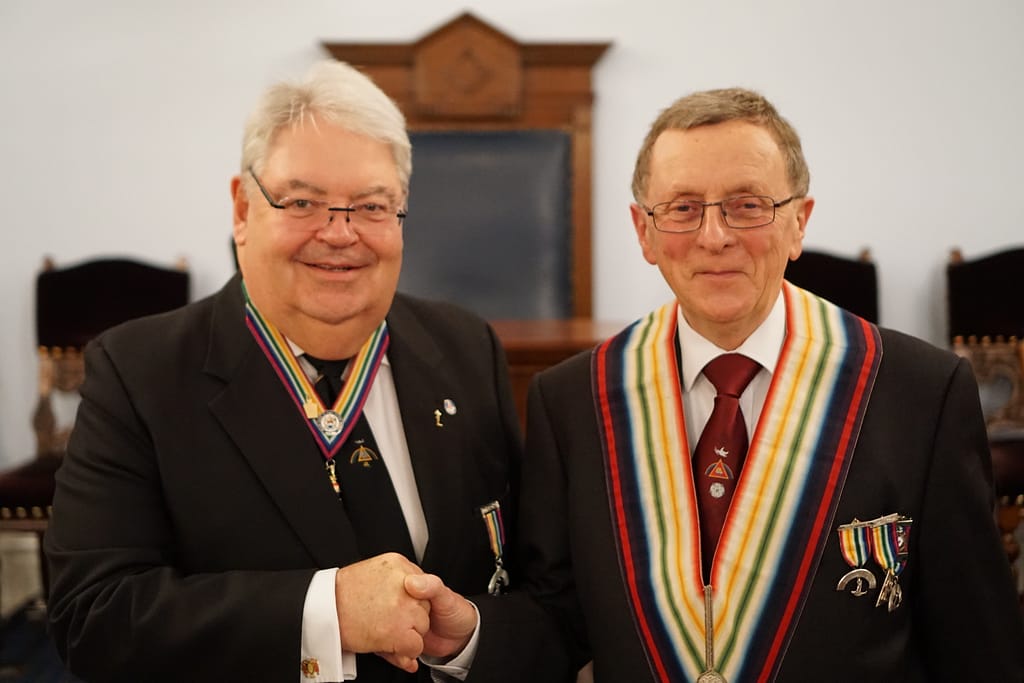 The Installation completed, the Past Commanders Jewel was presented to W.Bro.Keith W.Bro. John Vause who thanked him on behalf of the Lodge for a job very well done, three candidates Elevated, leaving the Lodge in a better state than it was found. Only one other item of note, the presentation of a Grand Lodge Certificate to Brother Roy Schofield the P.G.M. This was delivered in a professional, sincere fashion and well received Bro. Roy
The Festive Board beckoned and was quickly despatched. The Toast to R.W.Bro. Jim was submitted the Senior Warden, Bro, Barry Smith who thanked him particularly for leading example during the Ceremony by the work that he did, Responding R.W.Bro. Jim congratulated W.Bro. Alan and wished him a successful, and happy, year in Office.

We then had a 'Monty Python' moment when Jim said 'what has the M.B.F. ever done for 'us? He expounded ; a number of MBF Grants have been made which affect our Province. Earlier this year St John Ambulance Yorkshire received an Ambulance Support vehicle, In November a donation will be made to the Forget-me-not Children's Hospice in Huddersfield, a rapid response vehicle is planned for Yorkshire Air Ambulance, a donation to Kirkwood Hospice in Huddersfield for 20 special syringe drivers together with a new mini bus for Mar)n House Hospice and the refurbishment of a canal barge for the Mirfield charity Safe Anchor Trust. A total amount donated into our community the MBF this year of over £180,000.
A last reminder of some events you may not wish to miss;
presentation of 50th Certificate to R.W.Bro.Brian Batty at Brighouse Lodge, 11thNovember
Centenary meeting for Halifax Lodge of MMM. No.706. Wednesday 13th Nov.
Masquerade ball at the Mercure Hotel, Bingley on Saturday, 30th November, Three Overnight packages are still available, act quickly if you want one.
Annual Carol Service that will again be held at Brighouse Methodist Church on Sunday, 8h December.
What a wonderful evening of the Fraternity of Royal Ark Mariners not a Member, then come and join us!
Worshipful Brother Duncan Smith P.G.S.D.
Communications Manager