Harrogate Masonic Hall, Tuesday 5th February 2019 and Brethren congregated to witness the advancement of Brother Michael Baxter to the honourable Degree of Mark Master Mason. They were from many parts of the Province but none from as far as the principal visitor the Assistant Grand Master, Right Worshipful Brother Stephen Davison from Leicestershire accompanied Worshipful Brother Terry Weston was being driven this time.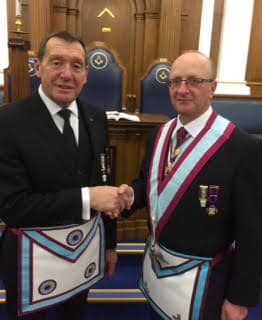 The Lodge was opened the Worshipful Master, Worshipful Brother Andrew Darling and R.W.Bro.Stephen was announced the Provincial Director of Ceremonies W.Bro. John Vause, and took his seat, salutations followed nine in number, to be followed the Deputy Provincial Grand Master, W.Bro. Alan Oldfield, with five, Grand Officers three and Provincial Grand Officers three. One Brother commented to me at the close that his hands had been quite warm; as he had not visited Mark Grand Lodge I suggested he attend in June, his hands will be truly warm then.
A knock and the Inner Guard made the announcement to the Acting Junior Warden, W.Bro.Keith Harmer who eventually awoke and acknowledged, never mind he was word perfect from that point. He later spoke about the 250 Club, annual prize money three thousand pounds now, worth having a few numbers I would suggest. Bro.Michael was admitted and the SD, Brother John Nicholls took charge assisted the acting JD, W.Bro. John Vause. Suffice to say that from this moment on they were excellent in every phase of the Ceremony, particular congratulations to Bro.John who has been a Mark Mason for less than two years.. WM, W,Bro. Andrew guided Bro . Michael through the Obligation and eventually he was despatched to the Quarries. Returning they were bearing stones which have to be seen to be believed , I say no more as I have mentioned this on previous visits, go yourselves , it is also one of the most beautiful Temples in the Province, I should add that Bro. Michael did have a large grin on his face when presenting the stone to the WM.
The Signs and Secrets were given W.Bro.Bill Pickles in a measured and precise fashion, a joy to behold, W.Bro. John Dennis addressed the Badge and Jewel, W.Bro. Ian Wilkinson, the working tools and W.Bro. Roy Schofield the Conclusion, all in superbly fashion. Remaining agenda items covered, W.Bro. John Maxwell took the floor and presented a Patrons Collaret to Bro. John, another feather in his cap, less than two years a Mark Mason.
The Festive board beckoned on a cold night, delicious soup and a beef casserole, who could ask for more. Toasts followed, that to the Asst.G.M. in the hands of the WM. W.Bro.Andrew who-thanked him for his support and help. In response, R.W.Bro.Stephen thanked the WM for his Toast and the Brethren for the generous way it was received. He immediately congratulated Bro. John Nicholls for his brilliant performance as S.D. and wished him well for the future whilst also congratulating Bro.Michael on becoming a Mark Master Mason. He said that membership nationally of the Mark and Ark mariners is being maintained but emphasised that we all need to assist our Craft colleagues to ensure there is a pool whence we can obtain members, in the future, to the 'Magic of the Mark'
W,Bro. John Vause proposed the Toast to Bro. Michael who had found Freemasonry somewhat late in life, becoming a member of Harrogate and Claro Lodge No.1001 some three years ago, he will enjoy his 70th birthday later this year.. He had an illustrious career in the Police Force culminating, after a spell in West Yorkshire amongst other areas, as Chief Constable of the Cumbrian force.. Bro. Michael was impressed with the welcome that he had received from all present and, I judge, recognised the unique atmosphere that we enjoy in our Order. Particular mention for W.Bro.John as his Proposer and W,Bro. Mark Holland as Seconder. He will undoubtedly be an asset to the Lodge and I suspect, that he and Bro.Dutton will be put to work rather quickly.
Be happy, you are a Mark Master Mason
Worshipful Brother Duncan Smith P.G.S.D.
Communications Manager