No, not the legendary Rock group I used to follow but another year in the Chair for Worshipful Brother Philip Haynes. A goodly number of fellow Brethren were present and what it may have lacked in numbers, the quality of those present more than compensated, both W.Bro.Philip Drury ad I were there, OK I know that I am only half right!
The opening formalities attended,  Brother Jonathan Smith was introduced to the Lodge having been confirmed as a joining member at the previous meeting, he was later Invested as Treasurer, they do not hang about in this Lodge. A report then brought forth the Prov.A.G.D.C. W.Bro. Charles Lindsay to announce that the Provincial Grand Junior Warden, W.Bro. Graham Pearce, together with W.Bro. Stephen Wood, Elected Member of the Charity Committee, were without and were bored, they were immediately welcomed and received appropriate salutations. There then followed a short ceremony of Proclamation under the very able direction of the Director of Ceremonies, W.Bro.  Nick Jacques. A Brother of only a few months standing Bro. Ian Cairns then stepped forward to deliver the Working Tools in superb fashion, they have one for the future there.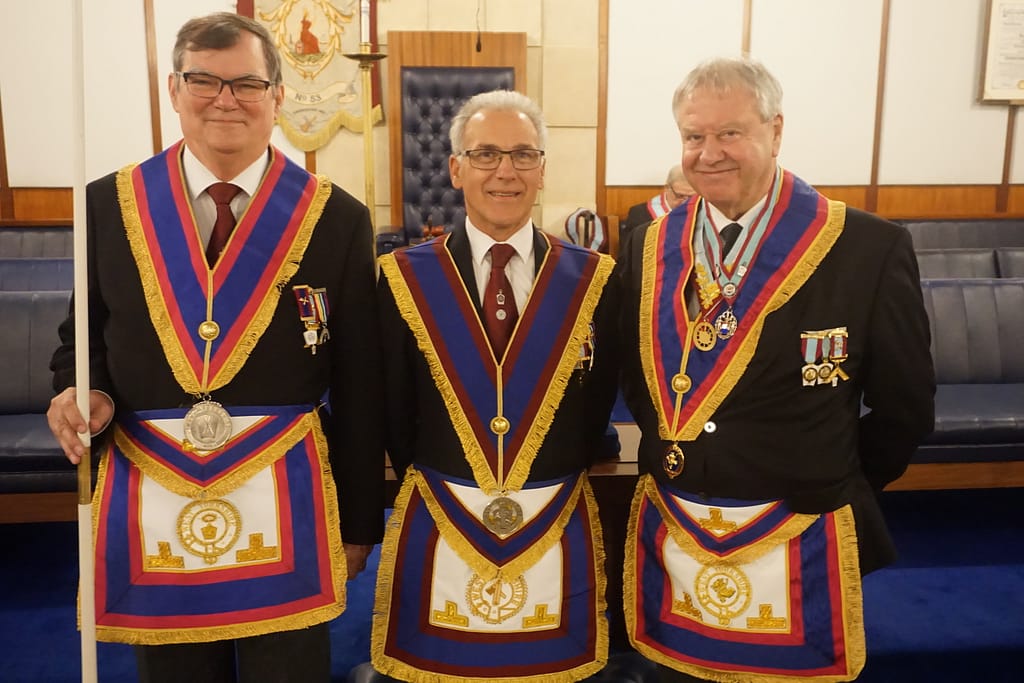 The Appointment and Investiture of the Officers for the ensuing year then took place, no surprises and events moved on with Addresses as follows;
To the Worshipful Master, W.Bro.Richard Foster, good to see him in Lodge,
​ Wardens, W.Bro.Tony Braisford,
​ Overseers, W.Bro. David Hayes and
​ Brethren, W,Bro.Norman Oakes, all of which were communicated in a most sincere and professional manner. W.Bro. Philip them smoothly dealt with the remaining Agenda items  and the Lodge was closed in due from.
A most acceptable repast was then enjoyed,  food at Tapton is now very acceptable, The Toasts then followed with that to the Province In the hands of W.Bro. David Hayes, this being the fourth time  he has  been unstinting in his praise for the talents and work ethic of the Provincial officers of whom he was in awe. This was a superb lesson in ingratiation in the pursuit of preferment to active Rank that I have ever witnessed, I do hope that he is successful. Responding W.Bro. Graham encouraged Brethren to maintain our moral standards in order that we make Good Mark Masons better He also  gave a reminder to use the Mark Master Masons grip in Lodge and to add your Mark to your signature in the Register.  He then drew attention to the 4 R's initiative sponsored Grand Lodge, Recruitment, Retention, Re-invigoration and Retrieval which has been disseminated to Lodge Secretaries, responsibility for which lies with our Deputy Provincial Grand Master, W.Bro.Alan Oldfield.  The implementation of this strategy is crucial in ensuring that the 'Magic of the Mark' continues to shine brightly in the Masonic firmament, give it your all Brethren. A presentation has already taken place, given V,W,Bro. Dr. Rod Taylor, seven visitors attended and two have already signed up, more power to his elbow.
Notes for your diaries;
Remembrance Day Sunday Lunch, 10th November at Westbourne House , Otley.
Presentation of 50th Certificate to R.W.Bro.Brian Batty at Brighouse Lodge, 11thNovember,
Centenary meeting for Halifax Lodge of MMM. No.706. Wednesday 13th Nov.
Masquerade ball at the Mercure Hotel, Bingley on Saturday, 30th November, Overnight packages now sold out but Tables still available.
Also mentioned was the Annual Carol Service that will again be held at Brighouse Methodist Church on Sunday, 8h December.
The Toast to the Charities was given W.Bro. Chris Watson, Charity Steward who reflected upon the pride that we all felt at the support given to St John Ambulance and the Cancer Charity, 'Hope for Tomorrow'. W.Bro.Stephen Wood then confirmed that the Cleeves and Whitehead continues to meet its obligations as required the Charity Deed, fifty four thousand pounds to good causes such as forty seven Brethren and dependents attended the Annual holiday at St Annes and up to two hundred are anticipated to be at the Almoners Luncheon on the 4th November at Tapton Hall. I know that I have said it before but the Charity is truly the jewel in the Provincial Crown. Importantly  arrangements have been made  with West Riding Masonic Charities for the Trust to use the good offices  of their Care and Support staff, at no cost, for the next year, This is excellent news and will provide much needed back up for our sole Welfare officer, Mrs Liz Nowell.
Finally, could not allow the fact that four Masters in the Chair took their responsibilities seriously and were in attendance, They being:
W.Bro's, Terry Sweet, Vulcan, Steven Hides, Cleeves. Michel Bunce, Danum and Rod Johnson, Sincerity, well done, the PGM will be delighted that his encouragement has been heeded.
Another wonderful evening of Mark Masonry, we are very lucky,
Worshipful Brother Duncan Smith P.G.S.D.
Communications Manager