The Annual General Meeting of the South Yorkshire Association of Installed Masters took place on Wednesday, 4th September, at Tapton Masonic Hall. Sadly its own standards, there was a modest attendance and whilst we did welcome W.Bro.Stuart Prince, the President of the Bradford AIM, other than W.Bro.Les Davy, Treasurer of Leeds IMA, there were none of the senior figures from the other two Associations in evidence. .
The Meeting was formally opened the President, Worshipful Brother Chris Watson who welcomed the Provincial Grand Master, Right Worshipful Brother James Steggles G.M.R.A.C. together with the Assistant Provincial Grand Master , W.Bro.Trevor Bolton W. Bro.Chris then delivered his report saying that he had thoroughly enjoyed his year and thanked the Brethren of the Association for their support, particularly the Secretary, Worshipful Brother Mike Nowell and his team. One of the highlights was the Sincerity Combined Sheffield Lodges meeting together with the Tapton Sunday Lunch; on the downside, for other Masonic reasons, he never managed to visit Danum, the only one he missed.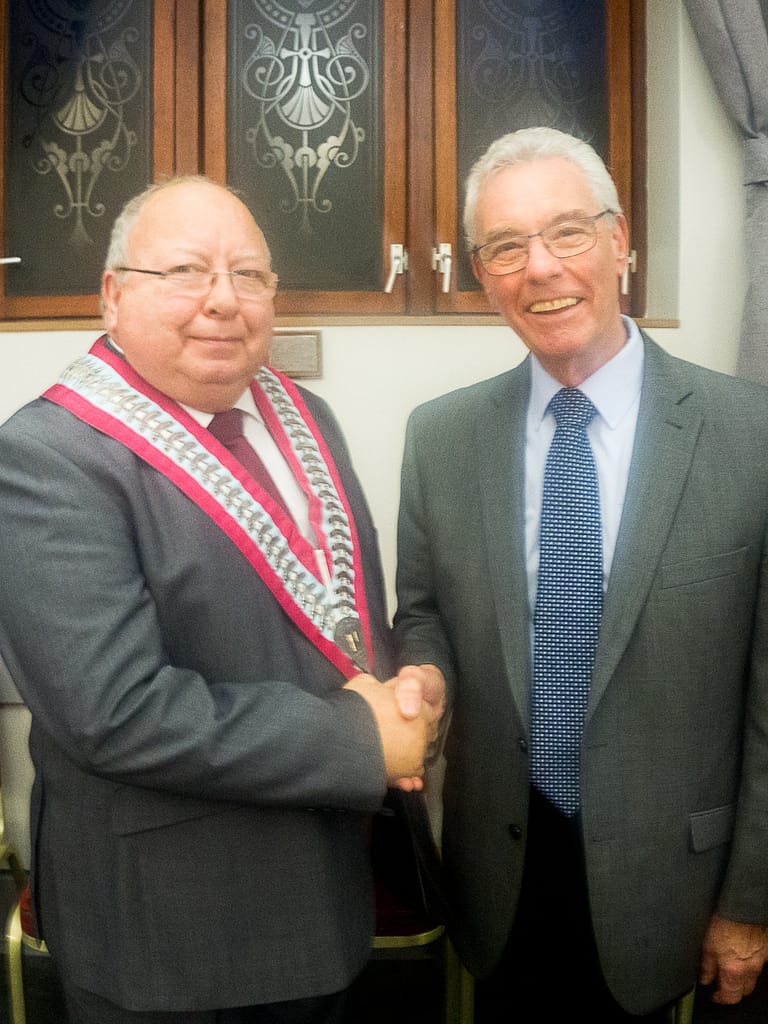 W.Bro.Duncan Smith then gave the Secretary's report in the absence of Mike Nowell , his flight times back from Florida having been changed. He was very grateful for all the help he had received and pleased with Carvery Sunday lunch at Tapton, He reminded all present that it was his intention to relinquish the appointment upon the completion of 10 years which will occur September 2020, assuming he is returned tonight, (which did happen). He also paid tribute to both W.Bro.Alex Geddes, Past President for all his work with the Combined Lodges initiative and particularly, W.Bro.james Ambler whose brain child it was. Finally a reminder to all Brethren to attend SYAIM Lodge visits, especially the Presidential trio, this to include the AGM's of the three other Associations, It is a responsibility of the Presidential Team to set the example to the membership bearing in mind that visiting is the raison d'etre of the Associations.
The President then invested his successor, wishing him a very happy and successful year in Office, the new Team being;
President, W. Bro. Alan Corbridge, Integrity Lodge.
Senior Vice President, W. Bro.David Sunderland, Portal Lodge
Junior Vice President,W.Bro.John Bulliman
W.Bro.Mike Nowell, upon a proposition was duly confirmed as Secretary for another year, with Brother Steven Hides as Treasurer and W.Bro.James Ambler as Assistant Secretary. A Donation of £5000 was then given Alan to the PGM who promptly delivered to the V.W.Bro.Richard, Chairman of the Festival Committee.
In his address R.W.Bro.Jim began congratulating W.Bro. Corbridge and the rest of the team upon their appointments, with a particular reference to the Secretary, W.Bro. Michael Nowell for all his efforts and he wished them all a happy and successful year. He then drew attention to the 4 R's initiative sponsored Grand lodge,, Recruitment, Retention, Re-invigoration and Retrieval which has been disseminated to Lodge Secretaries , responsibility for which lies with our Deputy Provincial Grand Master, W.Bro.Alan Oldfield. The implementation of this strategy is crucial in ensuring that the 'Magic of the Mark' continues to shine brightly in the Masonic firmament, give it your all Brethren. A presentation has already taken place, given V,W,Bro. Dr.Rod Taylor, seven visitors attended and two have already signed up, more power to his elbow.
Notes for your Diaries;
Friday, 27th September, Hipperholme Lodge of RAM No.71will host the Dedication Ceremony for the Provincial RAM Banner, this is the first, we do not have one at present.
Remembrance Day Sunday Lunch, 10th November at Westbourne House , Otley.
Centenary meeting for Halifax Lodge of MMM. No.706.
Masquerade ball at the Mercure Hotel, Bingley on Saturday, 30th November, Overnight package selling out fast.
Also mentioned was the Annual Carol Service that will again e held at Brighouse Methodist Church on Sunday, 8h December.
Much to keep you occupied and entertained over the next year, What a joy to be a Mark Master Mason but particularly in West Yorkshire, Smile and be happy.
W. Bro. Duncan Smith P.G.S.D.
Communications Manager