Things are starting to hot up in the world of Mark Masonry. Lodges are dusting off their furniture after a pleasant summer, ready for another season of "The Magic." Our 2023 Festival fundraising is going well with the main 2019 event being the Perimeter Walk organised and delivered by, amongst others, our Festival Chairman V..W Bro. Richard Puttrell, at the time of writing, this event alone is estimated to have added over £9,000 to the Festival coffers and more is expected.
These major events are important and provide a focus for fundraising, one major event per year is probably enough but just as important are the small Lodge events organised keen individuals. The Festival Committee and the PGM would like to see more of these, perhaps one per Lodge, for every remaining year of the Festival. They do not have to be big or even raise four figure sums, the main criteria are that they need to be fun, involve as many of the Lodge Brethren and their ladies as possible and hopefully make a small profit. These multiple small profits added to the Festival will make a difference.
The Festival Committee is here to help and to that end we would like to float some ideas on what can be done based on the very good examples already out there; firstly it is a good idea to look for a Festival coordinator within the Lodge, he does not need to be the Charity Steward or the Almoner, they are busy enough. You are looking for someone who wants to work with other members in the Lodge to put on events they haven't even thought of yet. Put yourself forward, get noticed, this is the Mark Degree, such behaviour is recognised.
Past event include: Coffee mornings, Lodge suppers, Sunday lunches, treasure hunts, classic car shows and for those lucky enough to have talent, cabaret nights are an option and if there is no talent, then buy it in?. Three events I am aware of have involved the hire of an artist, a simple supper and a raffle, an attendance of between 50 and 70 at each, one made over £1,500 profit for the Festival. Think small but think fun, gin tasting, plant swaps, mah jong or other games nights.
The Festival Committee would be delighted to hear from you with your event details, especially the dates, as they wish to avoid clashes publicising on the website. Who knows? this may lead to some extra attendance too and our Rulers and Past Rulers are always looking for another night out.
Finally next year's MAJOR event is a cycle ride around the Province visiting all bordering Provinces. It will involve 400 miles of riding over five days. Starting on June 20th 2020, W Bro Rod Dyer of Fearnley  No.58 is looking for volunteers and not just for cycling. If riding isn't your thing, there are a few logistic issues he will need a hand with. Please get in touch to sign up and offer your services. He's not hard to find.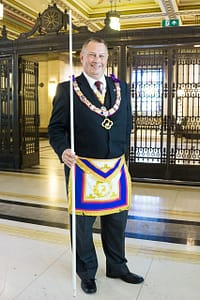 W Bro Chris Oldfield G.Stwd
​​​​​​​​​​