Sesquicentenary Meeting Booking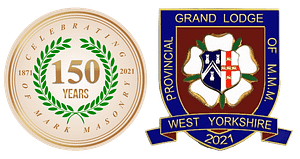 On the 23rd October, the Province will be celebrating our Sesquicentenary, with lots of guests and surprises in store. It's an event that is not to be missed.
The PGM has requested that only the Sesquicentenary Jewel be worn at this meeting. The wearing of this Jewel is not a mandatory requirement but it is requested that no other Jewels are worn at this particular meeting.
To purchase a Sesquicentenary Jewel CLICK HERE
This will be an ALL TICKET EVENT.
IMPORTANT INFORMATION 
if you are planning to attend the meeting only then use the " ATTEND THE MEETING ONLY "option.
If you would like to dine after the meeting then please use the "ATTEND THE MEETING AND DINE" buttons, you will see three meal options, with the salmon option being a different price.
PLEASE ONLY USE ONE OPTION