A very good turn out at Ripon Masonic Hall to join Worshipful Brother Alan Donald Hopwood in reminiscing his fifty years as a Mark Master Mason, This was in the company of the Assistant Provincial Grand Master, Worshipful Brother Trevor Bolton who, after the Lodge had been duly opened the Worshipful Master, W.Bro Jim Millington, and early housekeeping matters concluded, took the floor with Alan to guide all through the story.
Alan is a Scotsman, something you detect rather quickly when in his company and it was on the 13th October 1965 that he was Initiated into Randolph Craft Lodge No.1434 as a Lewis having been proposed his Father. As is the custom he then became a member of the Mark in the same Lodge, on the 20th April 1966. On the day he was joined others who had similarly progressed in the year as Advancement is completed on only one day in the year, all candidates at the same time.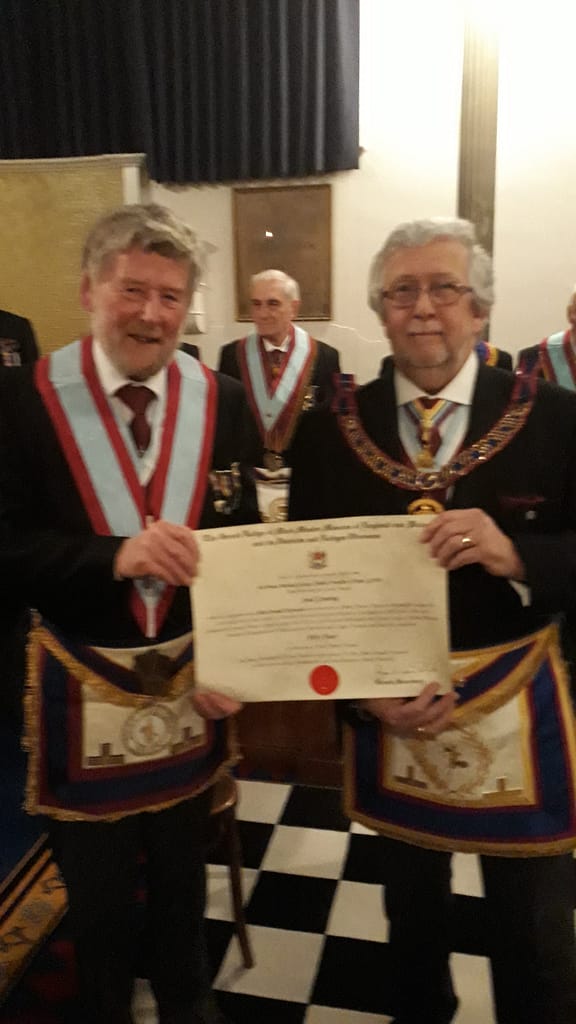 His profession was agriculture, to be precise 'Potatoes' being a Storage Manager for West Cumberland Farmers. Whilst it may not sound thrilling it actually took him, in the seventies, to Iran, before and during the revolution, He was tasked with establishing five storage depots which, together, held 26.5 thousand tons of potatoes, and I thought that we liked spuds in this country!! It was in 1973 that his job brought Alan to Boroughbridge and where he met his wife Brenda with whom he has enjoyed forty five years of marriage in a few weeks, Congratulations to you both. This is when Freemasonry took a stronger place in his life meeting W.Brother Bernard Porter who introduced him to a number of Craft Lodges, joining Minster in 1980 then moving to Falcon 1416 Craft lodge in Thirsk after moving house to Boroughbridge.
After his return from Iran, Mark Masonry beckoned in West Yorkshire and he joined Prince Leopold No.352 in1984, Worshipful Master in 1994 and again in 2008. As present Senior Warden he is intent upon trying for a third time and, as he said' do you think that I will ever get it right', cannot say Alan but I can assure you that a number of us will return to check.
Outside Brenda and Freemasonry, Alan is a model engineer, a past chairman of York City and District Society of Model Engineers and is a camera collector, having a store of over one hundred of one breed. The one that raised the most interest however, was that of being a 'Fluff chucker', yes that is right but do not get excited , it is another name for Fly Fishing! Holidays take up much of their time with daughter Kate in Australia and Brenda's two sisters both living in Cape Town. What a wonderful story, together with Brenda we trust that Alan will enjoy many more trips around the globe.
The Lodge was then closed and all enjoyed a delicious Festive board, beef casserole, just right for a cold February evening. The Toast to the Province was sincerely delivered W.Bro.Jim. W.Bro. Trevor then confirmed what all present were thinking, it had been a night to remember, an absolute pleasure, particularly for himself in researching Alan's Masonic career, some moments to treasure. The remaining Toasts quickly despatched, all wound their way home.A gentle reminder to all, the Provincial Meeting of the Province of West Yorkshire will take place at Bradford Grammar School on Saturday, 13th April. It is a responsibility of all Worshipful Masters to attend and represent their Lodges, hopefully accompanied their Wardens and, perhaps, Brethren. This is your opportunity to visit the Lodge of R.W.Bro. James Steggles G.M.R.A.C, our Provincial Grand Master, let us not let him down.
No doubt the more preceptive of you are wondering, as I was, why did Alan have to wait three years to receive his certificate. Simples! Alan confirms that the confusion on the dates was caused him agreeing to act as a candidate for an advancement ceremony at Prince Leopold when he joined officially. He had been in the habit of visiting as a Scottish Mark Mason prior to that. Be sure your sins will catch you out. There you go.
A wonderful evening in Mark Masonic company
Worshipful Brother Duncan Smith P.G.S.D.
Communications Manager
NB sadly found a crack in my mobile phone screen which is the source of the focus issues, I have used the only two that are any good and will endeavour to replace them in the future, In the off chance that someone else took any on the night, can you please let me have them. Yes the phone is going to the mobile phone clinic!