A most enjoyable meeting at Tapton Hall on Wednesday, 15th May to witness the Installation of Brother Steven Hides, this was in the company of thirty one visitors from fourteen Lodges, yes he is popular. Those present included the Deputy Provincial Grand Master, Worshipful Brother Alan Oldfield, Worshipful Brother Alan Corbridge, Elected Member of the Charity Committee, Asst.P.G.A,D.C. W.Bro.Craig Kidd and eight attending from Escafeld, five from Vulcan and four from Britannia, excellent support , long may it continue. At this juncture I must also point out that three Masters in the Chair were present, they being, W.Bro.Michael Bunce Danum No. 398, W.Bro.John Smith, Sincerity No.943 and W.Bro.Terry Sweet, Vulcan No.1191, things are definitely on the up.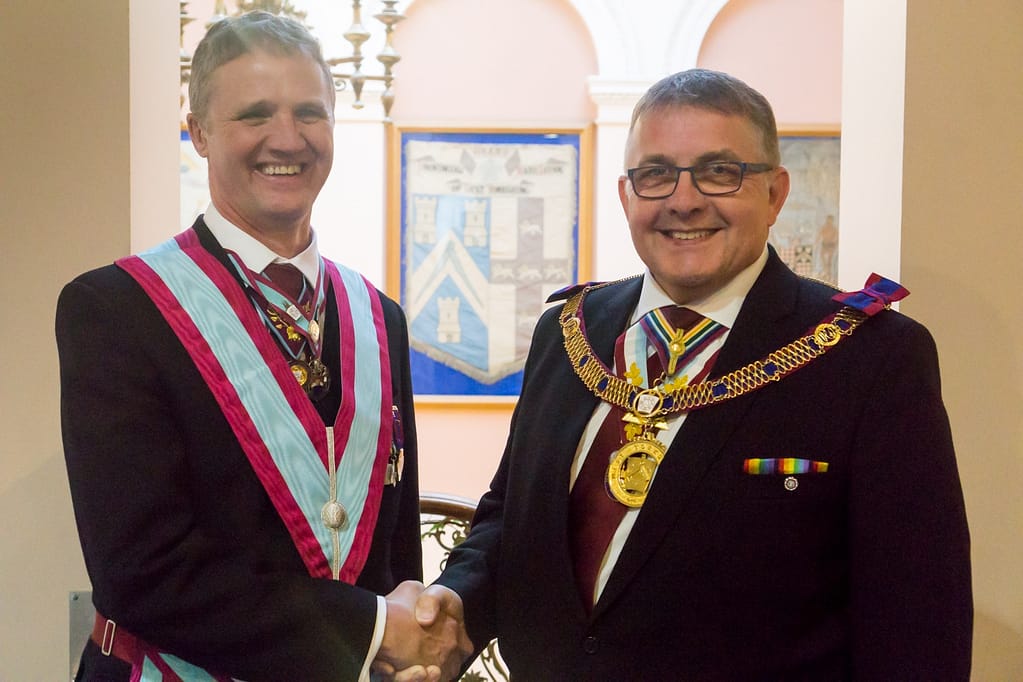 The Lodge was opened the Worshipful Master, W.Bro.John Hill and events speedily moved to Steven being presented W.Bro.Michael Holmes, the necessary questions put and duly answered. Those below the rank of an Installed Master then took a short recess, the Installed Board was opened and W.Bro.John obligated his successor, the Signs and Secrets explained Worshipful Brother Phillip Glover in excellent form, whereupon Worshipful Brother Steven was placed in the Chair of the Lodge. The Brethren then returned and witnessed W.Bro.Phillip present and explain the Working Tools , again in superb fashion. The Officers were Appointed and Invested, no surprises there, with their duties being explained W.Bro.Steven the delivery of which was a joy to behold, the Dep.P.G.M., W.Bro.Alan actually commented upon it when giving greetings. The Addresses  were given as follows, to the Worshipful Master, W.Bro.John Hill, to the Wardens, W.Bro.Graham Crossland, to the Overseers, W,Bro.David Kirkham and to the Brethren, W.Bro Alan, Dep.P.G.M. The latter will forgive me for singling out W.Bro.Graham who, in his eighty second year, still possess a booming, stentorian delivery in his own inimitable style, truly a gem in the Cleeves firmament.
The business of the Lodge was now very much in the hands of W.Bro.Steven and he firstly called upon W.Bro.Frank Dewire who presented W.Bro.John with a Past Masters Jewel, and in doing so thanked him for ensuring that he had presided over a very happy Lodge; a testament of which he should be proud. Remaining Agenda items completed, all adjourned for another Festive Board for which the Tapton Caterers are to be congratulated, which included a rather large, succulent Chicken breast, enough on it's own. The Toast to Province was delivered W.Bro.Phillip Glover who acknowledged the positive contribution of Provincial Officers particularly in stepping in when the need arises and always being available with support and guidance, well it is called the crawlers Toast, but he was right. In response, W.Bro.Alan congratulated W.Bro.Steven upon his rapid rise to fame, he has been a Mark Master Mason some five years. He thanked all who had attended the Provincial Meeting for their support of both the Provincial Grand Master but also of the Province. Lessons had been learned in respect of some issues which did not quite go to plan and these will not recur. The Grand Lodge initiative covering Recruitment, Retention and Re-invigoration, to which has now been added retrieval will be rolled out in the Province and lodge Secretaries will be informed shortly; this is necessary to stem the downward trend in membership, but do not forget we are still renowned for our spirit of enjoyment, the Magic of the Mark making Better Men of Men and Mark Masons of Mark Masons.
The Toast to the Charities was submitted W.Bro.John who having now vacated the Chair has picked up the reins as Charity Steward, He was the first to admit that he had a lot to learn and looked forward to hearing what W.Bro.Alan had to impart, Toast given. W.Bro.Alan began confirming that, despite the income pressure caused the Festival, the Cleeves and Whitehead Trust continues to meet all it's obligations, Almoners Luncheon in April with another in November and the Annual Holiday at St Annes in June. His final words were 'Thank you for all you have done for your Charity, keep it up', hear hear. The only other comment I would make was the toast to the W.M, Steven given W.Bro Michael, his proposer, they had originally met through Scouting. He had found Steven to be a committed and competent man who could not say no and for that he was very thankful. Steven, replying, thanked Michael from the bottom of his heart for the life changing advice which gave him a new direction culminating in today', yes a bit emotional but no apologies, it is what caring Men and Mark Masons do.
Brethren Smile, be happy, we are all Mark Master Masons.
Worshipful Brother Duncan Smith P.G.S.D.
Communications Manager