The plan was working and Worshipful Brother James Wilson, the Worshipful Master was staying where he was for another year,, the fourth time that he has taken the office. The intention was that, with Junior Brethren coming through, progression could be assured for years to come, and this he has achieved.
The Lodge was opened in due form, minutes approved and a report was then forthcoming. W.Bro. John Gray, Provincial Assistant Grand Director of Ceremonies entered, informed W,Bro, Jim that the Provincial Grand Master, Right Worshipful Brother James Steggles G.M.R.A.c. was without, accompanied W.Bro. Chris Oldfield, Elected member of the Charity Committee, and demanded admission. Normally that is where it stops but not at Eland, he had in attendance the  Dep.P.G.M., W.Bro. Alan Oldfield, the Asst.P.G.M. W.Bro, Trevor Bolton and the Prov. G.D.C., W Bro. John Vause plus other Grand lodge Officers. In total fifteen Officers of Grand Rank status,  undeniably a list of the great and the good but talk about too many chiefs! W.Bro. Jim offered the gavel which the P.G.M.  acknowledged but decided it was better left in situe,
The W.M. then thanked the Officers for their support over the past year and attention turned to the Proclamation. This was in the hands of the Director of Ceremonies, W.Bro. Andrew Brown, W.Bro. Jim reaffirmed his commitment, was proclaimed W.Bro. Andy who also reminded him of his duties in respect of the Warrant, Constitutions and Regulations and Bye laws and told that the Lodge was now in his hands, again. The Appointment and Investiture of the Officers then took place which began with Brother Ian McPhail who some years ago had taken a break from Freemasonry, returning to Eland two years ago and now the Senior Warden. At this point, a report and this brought forward W.Bro.Mark Kenyon, yes another Grand Lodge Officer, Assistant Grand Director of Ceremonies, now sixteen of Grand Rank present. The remaining appointments were then swiftly concluded.
The Addresses, all undertaken in superb fashion were as follows;
Wardens​​ W.Bro. Edward Sandland,
Overseers​​ W.Bro. John Dennison and
Brethren​​ R.W.Bro. Jim Steggles.
Remaining Agenda items concluded,the Lodge was closed and all adjourned for welcome sustenance. At the Festive Board, W.Bro. Howard Seed gave thanks with a delightful piece of verse only to be topped V.W.Bro.Dr. Rod Taylor saying ' well done , I am still trying to find a rhyme for Gaviscon'.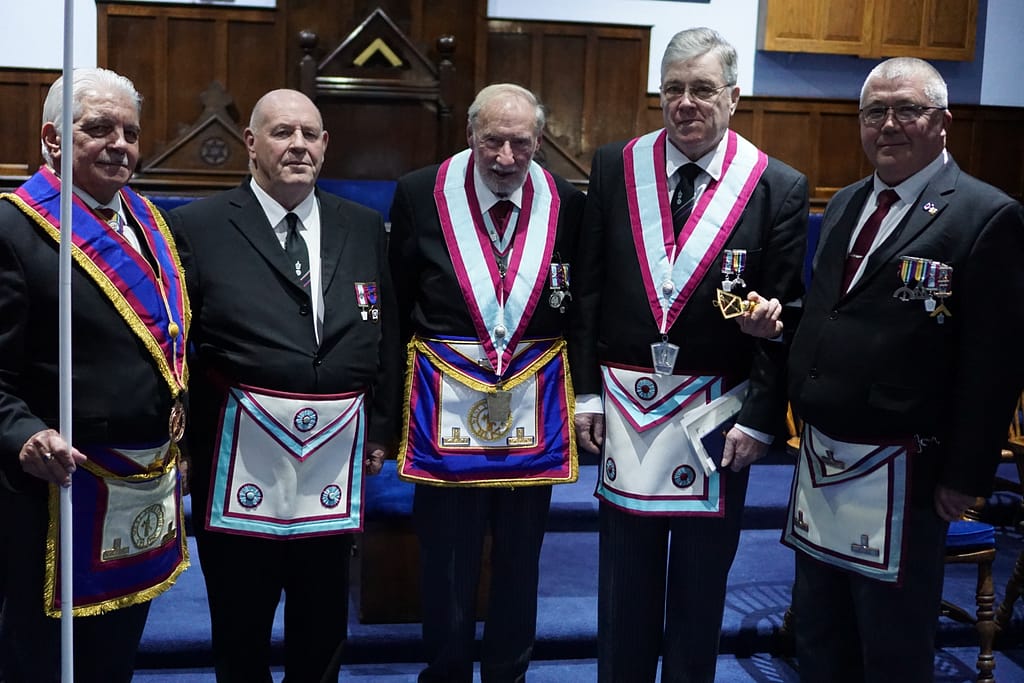 It was W.Bro. Howard again who proposed the Toast to the P.G.M. describing him, quite correctly, as a warm man with a pleasant disposition who seems to know everybody, the latter is a function of the fact that he cares., finishing with the words that he had certainly put the cherry on the cake with his attendance. In reply R.W.Bro. Jim encouraged the Brethren to support their W.M. and find him a candidate for what probably will be his last year in the chair of the Lodge, well then again! He then emphasise the importance of the 4 R's initiative for Freemasonry as a whole but Mark in particular. Appoint a Co-ordinator to be proactive to manage the recruitment process where V.W.Bro. Dr, Rod is on hand with a presentation entitled, 'The Magic of the Mark' He also reported that a number of MBF Grants have been made which affect our Province. Earlier this year St John Ambulance Yorkshire received an Ambulance Support vehicle, In November a donation will be made to the Forget-me-not Children's Hospice in Huddersfield, a rapid response vehicle is planned for Yorkshire Air Ambulance, a donation to Kirkwood Hospice in Huddersfield for 20 special syringe drivers together with a new mini bus for Mar)n House Hospice and the refurbishment of a canal barge for the Mirfield charity Safe Anchor Trust. A total amount donated into our community the MBF this year of over £180,000. We should all feel extremely proud to be Mark Master Masons.
Some events to see you through to Christmas, not to be missed;
Presentation of 50th Certificate to R.W.Bro.Brian Batty at Brighouse Lodge, 11th November
Centenary meeting for Halifax Lodge of MMM. No.706. Wednesday 13th Nov.
Masquerade ball at the Mercure Hotel, Bingley on Saturday, 30th November, Three Overnight packages have now become available, act quickly if you want one.
Annual Carol Service that will again be held at Brighouse Methodist Church on Sunday, 8hDecember
The Toast to the Charities was enthusiastically despatched W.Bro. Stephen Bray, the response in the hands of W.Bro Chris.. He drew attention to the fact that in the last year the Cleeves and Whitehead Trust met its obligations with a total of £54 k for deserving Brethren, this includes the Almoners Luncheons and annual Holiday, the latter already booked for next year, St Annes, 14th to 20th June. The major event in 2020 is the Masonic Cycle Challenge, details on the web site but give thought to sponsoring a rider a good idea for Lodges.
The Masters Song was sung with great feeling W.Bro. Howard. A final comment W.Bro. Jim, the Worshipful Master, responding to his own Toast stressed that the Lodge must support the Brethren on the ladder; agreed do not forget they are the future. Sadly another night where the plea from the PGM for Masters in the Chair to meet their obligations and visit other Lodges, particularly within their IMA, was left unheeded. Thanks to W.Bro Andrew Watts of Halifax No.706 for listening, pity other did not.
Another superb night of Mark Master Masonry.
Worshipful Brother Duncan Smith P.G.S.D.
Co