Friday, 18th March 2022 and the Masonic Hall at Hipperholme rang to the sounds of Brethren coming together for the Centenary Celebration that had been postponed, due to the covid pandemic, for two years.
Business commenced with the Lodge being opened in due form the Worshipful Master, Worshipful Brother John Sealey, swiftly followed the minutes of the last meeting confirmed. No accounts for confirmation, item Four heralded the Election of the Worshipful Master for the ensuing year which was confirmed as Worshipful Brother Robert Barton followed the Treasurer, Worshipful Brother Ian Wilkinson endorsed for another twelve months, he was not surprised! The appointment of the Tyler, as is normal custom, in the hands of the Master Elect.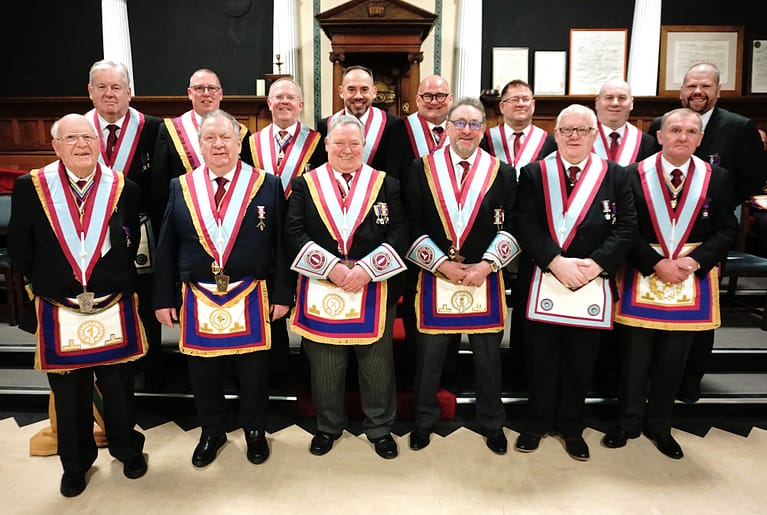 A report brought forward the Provincial Director of Ceremonies, Worshipful Brother Andrew Brown who announced that the Provincial Grand Master, Right Worshipful Brother James Steggles G.M.R.A.C. was without and demanded admission. No objections and he entered to acclamation accompanied the Deputy Provincial Grand Master Very Worshipful Brother Alan Oldfield, Past Provincial Grand Master, Right Worshipful Brother Brian Batty and an escort of other Grand and Provincial Grand Lodge officers. He was offered the gavel whereupon, no surprises, he accepted and took the Chair, after which he appointed the Provincial Officers to their allotted tasks.
The Secretary, Worshipful Brother Peter Spence, then read extracts from the Consecration Meeting held on Wednesday, 16thJune 2020. This was followed Worshipful Brother Steve Turner delivering a synopsis of the Lodge which had been prepared Worshipful Brother Stephen Wood, absent due to illness.
"An abridged version of the History prepared W.Bro. Stephen Wood follows,Click Here to see the full digest.
"The Masonic Hall in Lightcliffe was the scene of the Consecration of a new Mark Lodge for the Province of West Yorkshire. The date was Wednesday 16th June 1920 and at precisely High Noon, a goodly number of Mark Masons were in attendance to witness the Provincial Grand Master, Rt.W. Bro Frederick Cleeves perform the Consecration Ceremony.
Following the Patriarchal Benediction, Bro G. Wharton Thompson, Past Warden of Truth Lodge was duly installed into the Chair of Adoniram and Worshipful Master of Lightcliffe Mark Master Masons Lodge No 715" "The ceremony being most graciously performed the R. .W. Provincial Grand Master. The inaugural Wardens were Bro J.H.Hird as Senior Warden with Bro J.D.Waterhouse as Junior Warden.
Three joining members were proposed at the Consecration Meeting, but a staggering twenty three masons, mainly, but not exclusively, from Lightcliffe Craft Lodge No 3332 and De Warren 1302 , were proposed and seconded to be advanced at some future dates. By 1924 there are rumblings of discontent about the suitability of the meeting day, and after a number of months and various options being proposed, balloted for and rejected, finally in February 1926 it is resolved that the 3rd Friday in the relevant months will be acceptable. Moving on to 1939 and war is looming and in November 1945 meetings return to the usual 3rd Friday in the month.
In 1950, J.P.Greenwood is admitted a member, in 1951 he is appointed Tyler and at the Installation later in the year he becomes a Steward, ultimately to become a Very Worshipful Brother, and a legend of Lightcliffe 715, which would only end over sixty years later. In 1960, the Lodge is honoured, and congratulations are extended to V. W. Bro W.G.Robertshaw on his appointment as Deputy PGM. In 1961 James Paterson Greenwood is installed as Worshipful Master and presented his father. 47 brethren were in attendance. Sadly some three months after presenting his son, W.Bro Bertie Greenwood passed away. In 1969 Bro J. Brian Payne is advanced and he begins 49 years of wonderful service, including many years as Treasurer.
The year 1984 sees the introduction of a Scottish Brother, a certain Robert Andrew who came into the Lodge in January and remains a stalwart of the Order as well as Lightcliffe 715. As we head through the 90s' subscriptions were £20, and James Paterson Greenwood is appointed Past Grand Senior Deacon. Eric H. Ryley becomes the President of H.H.D.I.M.A and John Parker becomes Lodge D.C. As this history is being prepared, a position he still holds. In 1997 a new Provincial D.C's team is created and W.Bro. Parker is a member of it as a Provincial ADC. Towards the end of the decade W.Bro Brian Batty DPGM presents W. Bro. John Sowden with a tray and glasses to mark his 25 years as Lodge Secretary.
The New Millenium sees W.Bro.Greenwood receive his 50 year certificate from his good friend, Rt.W.Bro. Brian Batty. now Provincial Grand Master. In 2001, W.Bro. John Parker is appointed Provincial Grand Junior Warden at Bradford Grammar School; later in 2003 W. Bro Stephen Wood is appointed Provincial Senior Overseer, and then Provincial Junior Warden in 2007. In 2004 W. Bro's Newbould and Parker receive Grand Lodge Honours.
The rate of incoming members begins to plateau through the mid part of the decade. Some highlights include Rt.W. Bro. Batty becoming an honorary member in the presence of W. Bro Robert Corfield, APGM. As the number of our advancement ceremonies decline, we are grateful on a number of occasions to be able to call upon a good friend of our Lodge, V.W. Bro Dr Rod Taylor, well known raconteur and presenter of illustrated Masonic lectures, all of which are extremely interesting and always well received. A dispensation is sought for a meeting to be held in September of 2010 for the purpose of presenting a 60 year certificate to V.W. Bro. J.P. Greenwood, with the Provincial Grand Master, now R.W. Bro James Truswell in attendance, a very special evening,
One other very special meeting did however occur. In November 2016 a 60 year certificate is presented to W.Bro Robert Andrew his very good friend, Rt.W.Bro Brian Batty PPGM on behalf of Province. Bobs Scottish Mark membership was also recognised the presentation of a certificate from the Scottish Constitution. A certificate and lapel badge from Grand Lodge again presented R. W,Bro. Brian, completed the "full set" As can be imagined the Festive Board which followed was rather special too, as befitted a Brother who has indeed Marked Well.
As we complete our first 100 years, and have looked back at some of our achievements, we must also, now, look to the future, currently with 21 members. Pretty much in the midway with other Mark Lodges in the Province. If we are to progress well into our second century, we need to increase our membership and bring in new, ideally younger blood But we are being observed from the Grand Lodge above with that special Lightcliffe cocktail called LampOil in one hand, distinguished brethren such as – Redfearn, Robertshaw, Greenwood, Sowden, Newbould et al. We must not, and will not let, them down."
The Provincial Grand Secretary, Worshipful Brother Gary Parker then read the Centenary Warrant which was then presented to W.Bro.John R,W.Bro. Jim who then presented Centenary Jewels to the Brethren.
An Oration was then delivered in his own delightful and distinctive style the Provincial Grand Chaplain  Worshipful Brother Roger Quick. In similar vein to his predecessor, Very Worshipful Brother Edward Patnick, innovative connections transport the listener to outcomes such as the 'mid Atlantic', click here and enjoy.
Donations were then presented W. Bro. Steve in respect of the WYMBFF being seven hundred fifteen pounds and a further sum of 9ne hundred and fifty pounds for the Ukrainian Relief Fund. for the Ukrainian Relief fund. The Provincial Grand Master and his entourage then retired, final business concluded and the Lodge closed.
The Festive Board was well received and the Toasts summarily despatched, After acknowledging his own Toast, Rt.W.Bro. Jim continued to propose the Toast to the Lodge. The evenings celebration had been greatly enjoyed and he added a retrospect that in 1920 Rupert Bear made his debut in the Express and Lightcliffe was the 25th Lodge in this Province. Many changes have taken place in the period that the Lodge has endured and it has more than fulfilled its obligations to Mark Masonry. Responding W.Bro. John Parker was visibly moved the memories that the evening had evoked for him and he thanked all who had played a part, no matter how small, in the proceedings.
The Toast to the visitors was in the hands of Worshipful Brother Adrian Unsworth who thanked the numerous visitors who had attended, He stressed that as we came through the pandemic, much work was needed to bring new blood into the fold. Responding, Worshipful Brother John Fitzpatrick congratulated W.Bro. Stephen on the compilation, and W.Bro.Steve upon the delivery, of the Lodge History plus a special mention for the Oration W.Bro. Roger. He also pointed out that as part of the visitors, two Brothers were present, well said we must encourage Brethren join us on our travels, not in the 'Noddy car' with John methinks!
A wonderful evening clearly demonstrating the Magic of the Mark. Smile, be happy you are all Mark Master Masons.
V.W. Bro. Duncan Smith, PGJO