What a great start to the year for Legiolium Lodge. An Advancement, a Proclamation and, a successful ballot for two more members to advance in the coming months. Great news for them and our wonderful Province.
Wednesday 26th January and an early start of 5.00 p.m. But with such a busy night certainly the right discission as it allowed Brethren home early, and of course fitting Provincial recommendations. A busy Lodge very well supported lots of visitors. Mark Masons doing what they do best.
The Lodge opened and the Deputy Provincial Grand Master V.W.Bro. Alan Oldfield was admitted accompanied W.Bro. Mark Kenyon Representative of the Charity Committee.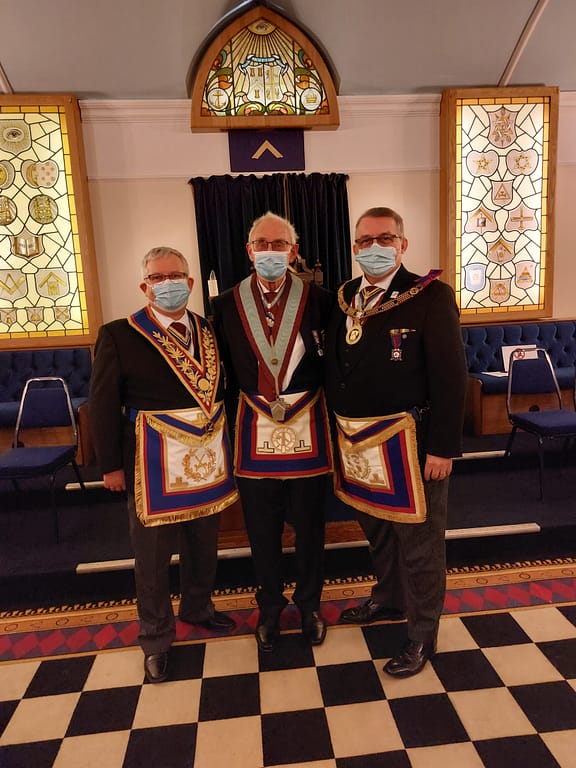 The Worshipful Master W.Bro. Paul Brunner welcomed V.W.Bro. Alan and salutations then given. Swiftly then on to the main event which was to advance Bro. Christopher Gareth Jackson. A great ceremony with all taking part doing a fantastic job. Bro. Christopher seeming to know exactly what to do until his work was rejected. A great recovery when a little later he found the 'stone' and order was restored. He was then able to take his seat in the Lodge.
Bro. Christopher Gareth Jackson and his Proposer W.Bro. J. Noel Roberts and his seconder W.Bro. Harry Stogdale.
W. Bro.Paul was then Proclaimed as Master for the ensuing year. A simple enough ceremony but conducted in a concise and dignified manner. All other business was then dealt with. The Brethren retiring to a festive board of Prawn Cocktail, Roast Beef and Eaton Mess.
Prior to the main speeches mention was made of the main fund-raising event of the year that being the MC2 cycle challenge and sponsorship forms were passed around.
V.W. Bro.Alan in response to toast No.5 mentioned the need to support the Festival and talked about such things as supporting our R.A.M. Lodges to achieve at least Grand Patron Gold Award, the Provincial 150 Year History Book, the Sesquicentenary Jewel and the importance of supporting the Provincial Grand Lodge meeting on Saturday 23rd April, all done in 3 minutes 45 seconds.
W.Bro. Mark in response to the toast to the Mark Benevolent Fund and the Cleeves and Whitehead Trust talked about all the hard work the Trust does in organising things like the St. Annes holiday and the wonderful work the Almoners do. Lots of other clear information about how to support the Trust. All in 2 minutes 55 seconds. The Provincial Team really showing how it should be done.
The toast to the candidate said he was a very hard working Mason and would do any job the Lodge were to give him.  In fact, a perfect candidate.  In his response Bro. Christopher said he had thoroughly enjoyed the experience but doubted its title of 'the friendly degree'.  How could it be classed as friendly when he was threatened with an axe!
A great night. No doubt many more to come for Legiolium Mark Lodge No.457.
W. Bro. Andrew Johnson, Prov.G.S.W.
Communications Manager