The Lodge was opened the Worshipful Master, W.Bro. Ian Wright in due form, whilst obviously prepared for the discharge of his responsibilities, he appeared to be somewhat disappointed that his tenure had come to an end, sorry Ian . It happens to all good things.  The opening formalities were dispensed whereupon, a report brought forth the Provincial Director of Ceremonies, W.Bro John Vause who advised that the Provincial Grand Senior Warden, W.Bro. Ian Lewis, accompanied W.Bro.Paul Levey, Elected Member of the Charity Committee was in attendance and wished to join the party; this was agreed and they received a warm welcome.
The Installing officers took post and the Master Elect, Brother Alan Bartrop was presented W.Bro. Charles Lindsay, Director of Ceremonies and the usual questions asked and appropriate responses received. All those below the rank of an Installed Master left the Lodge and an Installed Board was convened. Bro. Alan then recited his obligation, unusual as in most Lodges the Master Elect repeats the words of the Installing Master; at least it is one thing he does not have to memorise.  The Signs and Secrets of an Installed Master were then delivered, Alan received the Badge, Collar and Jewel of an Installed Master and was placed in the Chair W,Bro. Ian, a ceremony of which he can be justly proud,  no ritual book but the occasional prompt. W.Bro.Ian also presented the Key Stone Collarette and the Mark Benevolent Fund Grand Patron Collarette. At this juncture the Working Tools were presented and explained W.Bro. Jack Anderson, a task he has shouldered for some time and impeccably discharges. The Brethren having returned to the Lodge and W.Bro Alan having been proclaimed, attention turned to the Appointment and Investiture of the Officers for the ensuing year. Only one comment, W.Bro. Trevor Brown, an accomplished Thespian in the Role of the Junior Warden, when they have a candidate put it in your diary ad visit, Trevor is worth the admission fee on his own.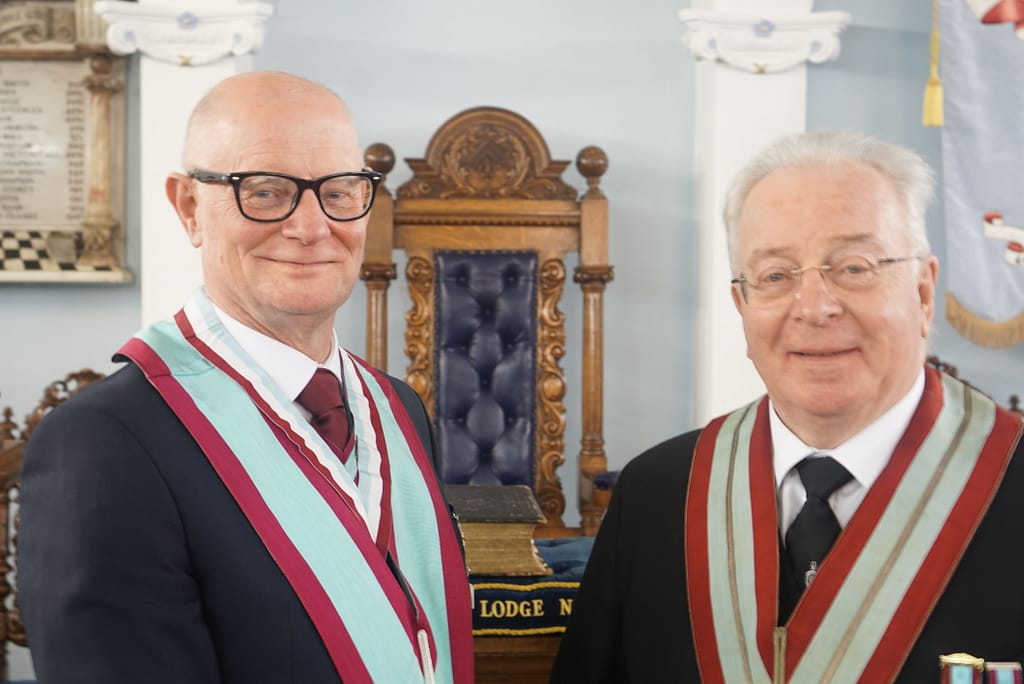 The Addresses were then delivered as follows;
Worshipful Master W.Bro. Charles Lindsay.
Wardens W.Bro.Tony Tarver.
Overseers W.Bro. George Crofts.
Brethren W.Bro. Ian Lewis'
Superb all, only one word applies, flawless.
W.Bro.Ian then received his Past Masters Jewel at the hands of W.Bro. Bob Davis who congratulated him upon a job well done in his year where other difficulties had to be overcome. The remaining Agenda items were then smoothly processed and the Lodge was closed in due form. The Festive Board beckoned and a delicious Prawn cocktail, Steak Pie and choice of Desert completed a most welcome repast.
The Toast to the Province was proposed W.Bro. Ralph Adey who spoke in glowing terms about contribution that the Provincial Officers made in leading and guiding the Province, unstinting in their efforts for which Mark Masonry will be forever in their debt.  If it was not for the fact that Bob is already a Provincial Officer , he would have assured himself of a significant appointment, maybe a promotion beckons. Responding W.Bro. Ian first dealt with the issue of declining membership and the consequent need for all to embrace the 4 R's initiative and that this was a responsibility for all, we must act together. In that regard, do not forget the South Yorkshire Association of Installed Masters whose objective is to foster visiting therebringing Lodges and Brethren closer to generate that teamwork essence. 

The Toast to the Charities was submitted W.Bro,Ian Yates who presented a cheque to the Festival but left the detail, quite rightly, to W.Bro.Paul who responded. The Cleeves and Whitehead is in good order and fulfilling the requirements of its Charity Deed; the relief of Past and Present Mark Master Masons, their relatives and dependants where some forty five thousand pounds was expended in the past year.
Following the deaths of both Judith and Philip Mann, the Trustees were mindful that too much pressure would be put on the one remaining Care Officer, Mrs Liz Nowell. Attempts were made to replace Judith were unsuccessful, until W. Bro. Alan Oldfield, our Deputy Provincial Grand Master, suggested approaching West Riding Masonic Charities Limited [ W.R.M.C.L.] to enquire if the Cleeves and Whitehead Trust could use their Care and Support Officers on a "need to basis" taking some of the pressure of Liz Nowell; this is now well established and functioning smoothly. Notes for your diaries. Almoners Lunch 6th April Cedar Court Hotel, Huddersfield 2nd November at Tapton Hall, Sheffield ; Annual Holiday at St Annes 14th to 20th June.
Another thoroughly enjoyable Mark Masonic occasion, Smile and be happy.
Worshipful Brother Duncan Smith P.G.S.D.
Communications Officer