A new Worshipful Master to Install in a newly decorated Temple, what could be better?
There was a real buzz around the place.  Everyone talking excitedly about the wonderful day had all at the Sesquicentenary meeting held at Bradford Grammar School only 48 hours earlier, fantastic to see. The meeting opened on time with a visitor just dashing in the door at the last minute and filling an office. The Lodge was well supported several visitors all exhibiting the distinguishing characteristics of a Free Masons heart.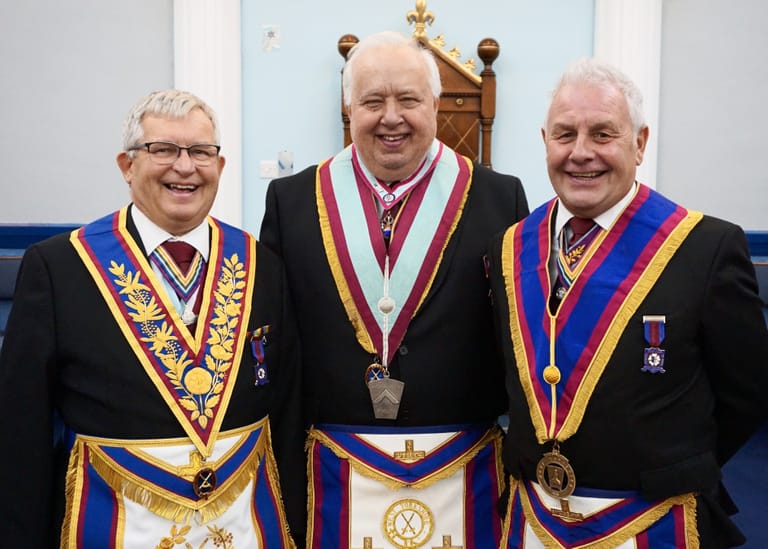 Once the opening business had been dealt with the Provincial Representatives Worshipful Brothers Andrew Johnson Prov.G.S.W and Worshipful Brother Mark Kenyon Representing the Cleeves and Whitehead Trust admitted. The Worshipful Master James Oldroyd after nearly offering the gavel gave them both a warm welcome. Both suitably responding. W.Bro Andrew Johnson adding his thanks for not been offered the gavel, a great relief to him. Salutations were then given.
The Worshipful Master thanked the Brethren for their great support over the last four years which, was the time he had been in the chair. And stated he was very much looking forward to the Lodge moving forward.
Worshipful Brother David E. Blackburn presented the Master Elect.
The Installation meeting then took place. All done in a professional manner. It wasn't necessary to explain the signs and secrets as the incoming Master Worshipful Brother John R. Davis had previously been through the chair of the Lodge.
Working tools were then presented W.Bro. David E. Blackburn.
The Worshipful Master having previously held that office meant the address to The Worshipful master was omitted.
The addresses as follows:
Wardens W.Bro. Edward Wilkinson
Overseers W.Bro. David A. Taylor
Brethren W.Bro. Andrew Johnson
The Worshipful Master then appointed and invested his officers. The only surprise being that although W.Bro. Matthew Oldroyd knew he was being appointed secretary he had little knowledge that he was also to be Reg. of Marks. His surprise being quite evident the laughter it brought. All other Lodge business then being quickly dealt with. Greetings given and the Lodge closed.
The Festive board as always at Dewsbury was first class.
Toasts quickly given both representatives but, giving clear and specific information regarding supporting the Festival and The Mark Benevolent Fund, The Cleeves and Whitehead Trust. This seemed to encourage the Brethren to follow in the same precise manner. The best news of the evening was that they had two candidates to come, fantastic news.
A super evening. With the Brethren of Dewsbury Mark Lodge NO. 641 and their visitors marking well.
W.Bro. Andrew Johnson
Prov.G.S.W.