The doors were unlocked, and the Brethren eagerly entered the newly built Masonic Hall in Barnoldswick. The Lodge was well supported a good number of visitors from far and wide; Brother Roger Skinner travelling from Broadley Lodge No.1863 in Valletta, Malta!The Lodge opened nearly on time. The slight delay later being discovered as Brethren being locked out of the building. Oh, the teething troubles of a new building! A new 'bell system' has been ordered and is to be fitted shortly.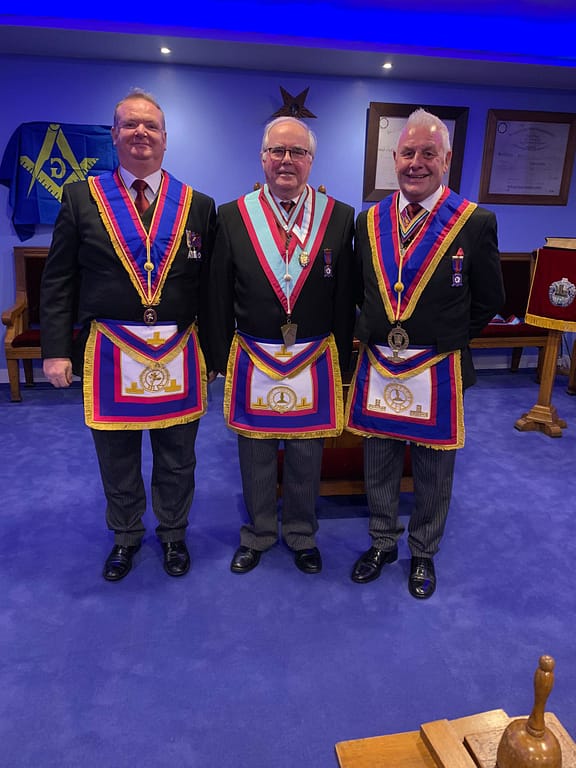 Opening business quickly despatched, the Provincial Representatives Worshipful Brother Andrew Johnson Prov.G.S.W and Worshipful Brother Richard Stone, Representative of The Charity Committee were admitted. The Worshipful Master Stephen Walker giving them a very warm welcome. Salutations were then given.
W.Bro. Stephen Walker thanked the Brethren for all the support he had received as Master which was five of the last six years! He said he had certainly enjoyed all his time in the Lodge and, his time in the chair but, was looking forward to the rest. No such luck as he was later appointed as Director of Ceremonies!
Worshipful Brother Simon Gazzard presented the Master Elect.The Installation meeting then took place. With W.Bro. Stephen Walker leading the way. It wasn't necessary to explain the signs and secrets as the incoming Master Worshipful Brother Derek Thulborn had previously been through the chair of the Lodge.
Working tools were then presented W.Bro. Simon Gazzard.
The addresses as follows:
Worshipful Master W.Bro. Stephen Walker
Wardens W.Bro. Geoff Askew
Overseers W.Bro. Sam Cariss
Brethren W.Bro. Simon Gazzard
The Worshipful Master then appointed and invested his officers. All other Lodge business then being quickly dealt with. Greetings given and the Lodge closed.
The Festive board was buffet style with a great choice, and all supervised the D.C. to allow safe and adequate space for all. Toasts five and six encouraged The Deputy Provincial Grand Director of Ceremonies Worshipful Brother Mark Holland were despatched quickly and efficiently both Provincial Representatives. This was to set the pace for all that followed. The main message being to support The Sesquicentenary purchasing the Sesquicentenary Jewel, the hard back book giving the 150 year history of The Province, and perhaps planning social events which the Provincial Grand Master would try to attend, if at all possible. Details of the final celebrations in Harrogate in 2023 were also given. Also, for the for Brethren to continue what they are doing and, perhaps look again at their contribution to The Mark Benevolent Fund and The Cleeves and Whitehead Trust. Both of course losing almost 18 months of various contribution.
Brethren then said their goodbyes and happily went home at a very sensible time. Many looking forward to meeting again at Bradford Grammar school on Saturday 23rd October for The Sesquicentenary meeting.
W.Bro. Andrew Johnson
Prov.G.S.W.