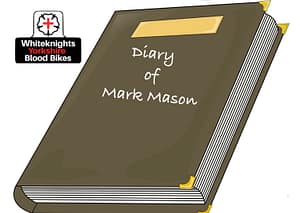 No, it's not a person, Mark Mason is the name of a White Knights' blood bike.  One of several donated Freemasonry in our Province.
The Cleeves and Whitehead Trust donates to the Mark Benevolent Fund to enable this lifesaving work to continue. This motorcycle was provided the Mark Benevolent Fund in 2018 and presented our Provincial Grand Master, R W James Steggles and V W Bro John Clough.  Through your giving, the Province will continue to support the National Association of Blood Bikes and their essential work.
Here is a diary of the bike and rider Craig Johnson, as they go about their shifts, so you can see what a difference our donations make.
Day 1, 28th May. Shift starts at 7.00pm
One job last night with Mark Mason.
22:52 at Calderdale Royal Hospital to
23:12 at Huddersfield Royal Infirmary
Had to take the diversions as Elland By-Pass is being resurfaced, but it made an enjoyable change.
Back on at 7pm tonight.
Day 2, 29th May.
21.33 Marie Curie
21.54 Bradford Royal Infirmary
22.25 Home
Called our 2302, just about to go to bed having watched ISS fly over.
HRI to CRH then CRH back to HRI
Two separate jobs (coincidence) but worked out conveniently. Elland by-pass closed so had to go down Blackley.
Home for 0046
Day 3, 30th May
Just about to have my lunch. The jam sarnies will have to wait!

11,52 call out
12,34 CRH
12,56 HRI drop-off
13,30 home

Fill up with petrol, which is being paid for BP during the pandemic.
Call 14,48
Overgate Hospice 15,28 pick up
Arrive 15,45
Collect delivery to go back to Overgate – home 16,13
Nice weather but it's very warm in bike gear.
22,11 got called out, Huddersfield Royal Infirmary (HRI) to Calderdale Royal Hospital (CRH)
Arrived at HRI to find another job had been allocated. Having to go down Blackley as Elland By-pass is being resurfaced, actually it's a more scenic route but there's an acute bend that comes up quickly if you're not careful.
Got to CRH, the other job was to pick up at CRH to go back to HRI. That worked out well!
M62 home with little traffic. Beddy-byes now, on call until 7am tomorrow
Day 4, 31st May
0140 call out
Calderdale Royal Hospital
to
Huddersfield Royal Infirmary

Excitement at CRH, a flat bed lorry loading a car up.

Home 0300 zzzzzzz
Mark Mason has now done 15450 miles.

For my shifts we were on call for 48 hours:
Thursdays 7pm – 7am
Friday 7pm to Sunday 7am.

During this time Mark Mason and I completed 10 jobs in 188 miles.
Thank you to Mark Benevolent Fund for donating Mark Mason, it is literally the gift that keeps on giving.
Your sincerely and fraternally
Craig Johnson