The event took place at Westbourne House, Otley on Saturday 2nd March 2019. where a Support Vehicle was presented the Mark Master Masons for the use of St John Ambulance South and West Yorkshire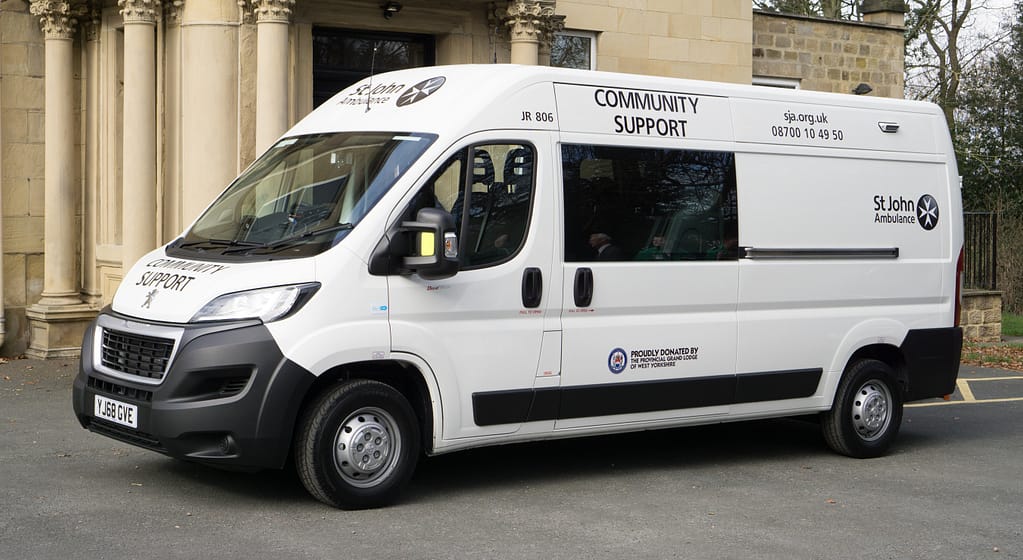 The  Provincial Grand Master of the West Yorkshire Province of Mark Master Masons , Jim Steggles introduced the participants and went on to say that this was funded the Mark Masters National Charity, the Mark Benevolent Fund.  The latter , in recent years, has funded many noble causes including Hope For Tomorrow mobile cancer care units, Prostate cancer, a Tamar Class Lifeboat and , the current project being to provide fifty two new Ambulances and Support vehicles to St John Ambulance.  For the presentation he was joined the Chairman of the Cleeves and Whitehead Trust, the local Charity of the Province of West Yorkshire, Jim Stanley.
The Support Unit was duly received Gordon Tollefson CStJ JP DL Chair County Priory Group South and West Yorkshire on behalf of the Sovereign Order of St John. He thanked Mark Masons for their generosity and called upon the Chaplain to dedicate the vehicle. This was in the hands of the Rev, Philip Carrington MBE CStJ County President SJA North Yorkshire and Teesside and prayers were said.
Also in attendance were Chris Little, District Manger St John West district who echoed the thanks to Mark Masonry and stressed that it will be used to extend their work in West and South Yorkshire to provide the very best care for those in need. This was supported Simon Dunn, Regional Director St John Ambulance North Region who expanded on the role that St John perform. Armed with approximately 650 Ambulances and 500 support vehicles they are a necessary ally to the NHS and other pubic services whilst additionally attending sporting and entertainment events nationwide,. Not generally known, they also are the National Ambulance service in New Zealand and cover some of the Australian States.
Undoubtedly an Organisation very worthy of Masonic support.
Worshipful Brother Duncan Smith P.G.S.D.
Communications Manager