This new Lodge was Consecrated on Saturday, 13th November at a Meeting held at Pontefract Masonic Hall under the auspices of the Provincial Grand Master, Right Worshipful Brother James Steggles G.M.R.A.C. as Consecrating officer and the Deputy Provincial Grand Master, Very Worshipful Brother Alan Oldfield as Installing Master.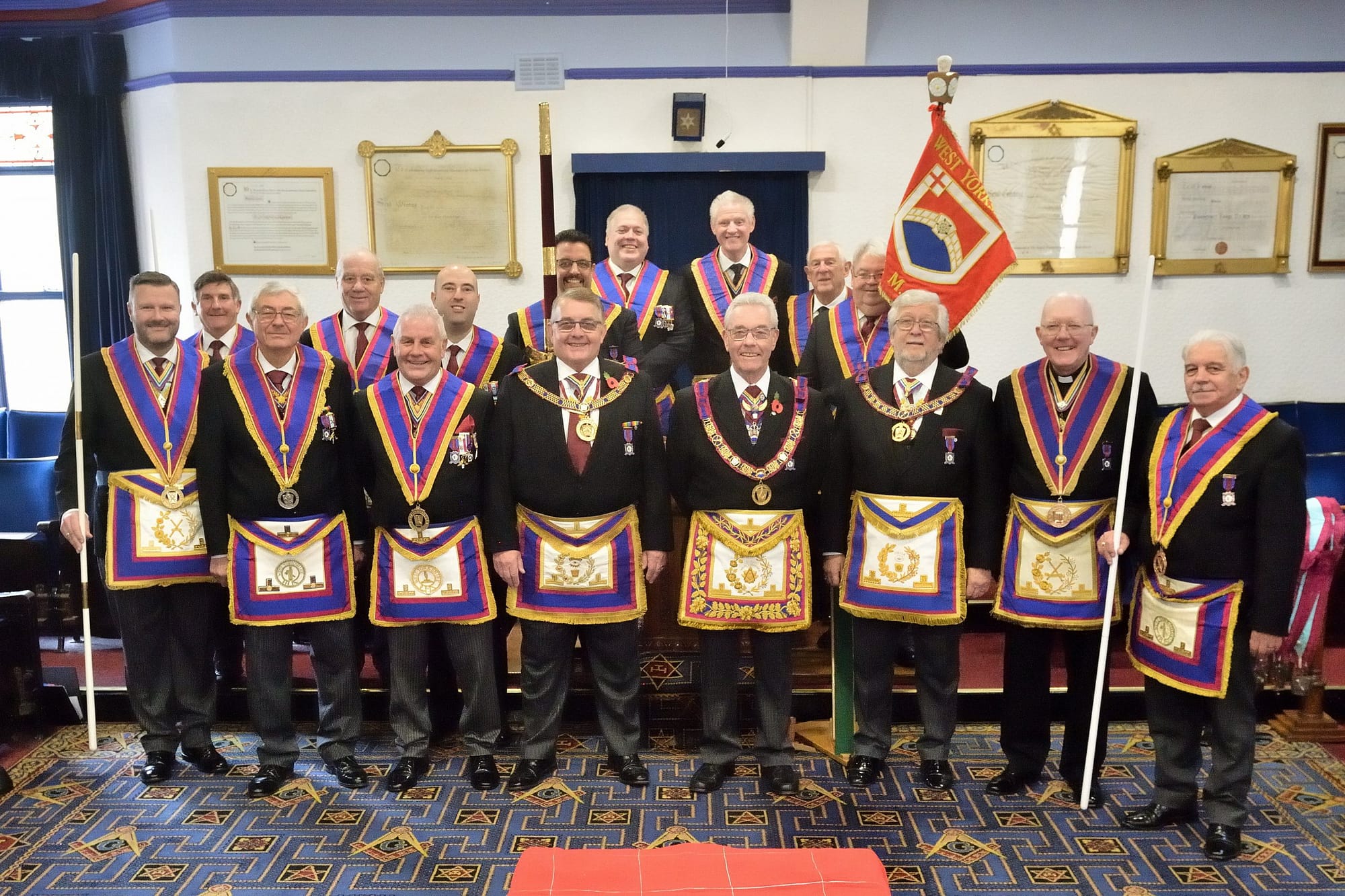 The Brethren assembled in the Lodge room, the Consecrating Officers were admitted under the guidance of the Provincial Director of Ceremonies Worshipful Brother Andrew Brown. R.W.Bro. jim in the chair, the remaining Officers took post and the Lodge was opened and appropriate Salutations delivered. R.W.Bro. Jim then explained the nature of the meeting and Worshipful Brother Roger Quick provided the Opening Prayer. The Petitioners were then assembled. The Warrant was then read the Provincial Grand Secretary, Worshipful Brother Gary Parker and the Petitioners signified their approval to the Officers named.
The Provincial Grand Chaplain then presented the Oration;
Right Worshipful Provincial Grand Master, Brethren all. According to the rubric, I have ten minutes to tell you what is the nature and purpose of Mark Masonry. On one level, we all know, though we could find it hard to put into words. On another level we could consider for all eternity, and still find room for more. On one level, the nature and purpose of our institution is life itself, and how best to live it.
But the Mark Degree is, it seems to me, above all else a creative degree. We are taught to value not just things as they always have been square or oblong but something new; something unlooked for; something which may at first sight seem strange or peculiar; but something which turns out to be the most important stone in the building. And this is even evident from earlier on in the ceremony of Advancement, when the candidate chooses a mark, or devises his own.This last is particularly significant; nothing on his masonic journey hitherto has required – or accepted – something of his own creation.
That is all very well. But there is a more basic question for us to ask. Is it true? Did it all actually happen like that? Was there once historically a workman whose work was rejected, which turned out to be the most important stone in the building? Or, to take it further, did the death of Hiram Abiff happen just as we hear it recounted? Or even, going beyond the Mark, was Noah's flood an historical event?
Let me tell you a story. when I was at school we studied in English a modern novel. I remember one of the characters in the novel seemed more like me than anyone I had ever met. It helped me to understand my place in the world and changed my life. About twenty years later, I decided to get in touch with my old English master, I phoned him. He didn't know me from Adam, but I am absolutely certain that if I had asked him about the character of Simon in Lord of the flies, he would have remembered him! And so, an apparently fictional character was more real to him than I was. But that character was written out of real experience. It might not actually have happened; but it was true. As Freemasons, we look beyond the outward form: we look for the meaning underneath; the speculative meaning. In that sense, perhaps curiously, it doesn't matter whether something historically happened for it to be true. As my eminent predecessor, V.W.Bro. Edward Patnick, told us: all Masonic ritual contains facts, fiction and a story that is a fable.
The creation of the universe in six days may or may not be literally true; some of us believe it to be true. For others of us, the Big Bang may be the best theory we have. it. What matters is the deeper insight in that account in the Hebrew Scriptures; Va'yar Elohim ki-tov And God said it was good. The How is a question for science; the Why is another question altogether, and one which we are taught to moralise upon; to think about deeply. When we do that; when we contemplate our ritual, our fellowship, the meaning of it all, then assuredly we are given the working tools to become better men. To make our Mark
And finally, in the Consecration itself, there is one significant word, which might easily have got left out. At almost the culmination of the ceremony, the chaplain censes the Lodge, beginning with the words: And Aaron shall burn sweet incense thereon. The Andtells us that we are part-way through a story. This is a continuation of everything that has come before; the preceding chapters in the Volume of the Sacred Law contain detailed instructions on the preparation of the altars made from Acacia wood, what everyone should wear, and on what the sacrifices should be. Yet this is all well before the time of King Solomans Temple at Jerusalem. They are still a nomadic tribe: and only when they are thoroughly settled will they build and consecrate a Temple.
But that Temple is intended to house the ritual established centuries earlier; a ritual formed out of experience, of difficult times; a miraculous thing in itself. And so the blessing of incense begins with a word which teaches us that the smallest contribution may have the greatest significance. That blessing culminates in the words which tell us that the offering is to be made throughout your generations. In that, therefore, in what we enact today we are part of a tradition which stretches back three thousand years, and is alive here and now.
There is one last thing to say. Of the symbols of Corn, Wine and Oil, the Cornucopia is especially significant today, for it is the Stewards' jewel; the sign of plenty, of generosity; of full measure pressed down and overflowing.
Those characteristics are all that we could wish for this new Lodge. May you indeed be blessed with those great and generous virtues, and flourish throughout your generations, until time with us shall be no more. So mote it be.
The Consecrating Officer, R.W.Bro. Jim, accompanied his Senior Warden, W.Bro. Andrew Johnson and Junior Warden, W.Bro. Ian Truswell then made three circuits of the Lodge Board, now uncovered, with the elements of Consecration being Corn, Wine and Oil. They were then joined byte Petitioners whereupon the fourth element Salt, the emblem of Fidelity, Hospitality and Everlasting Friendship was strewn. The Lodge was then dedicated R.W.Bro.Jim and censed the W.Bro. Roger, Chaplain. Finally the Petitioners were again assembled and the Lodge duly Consecrated.
The Deputy Provincial Grand Master, the Installing Master, V.W.Bro. Alan Oldfield then took the Chair. The Worshipful Master Designate, W.Bro. Leslie Davey was presented, an Installed Board opened and he was proclaimed and saluted under the guidance of W.Bro. Andrew Brown, Provincial Director of Ceremonies. The Working Tools were presented and explained W.Brp. Gary Parker and the Warrant R.W.Bro. Jim whereupon the Officers for the ensuing year were Appointed and Invested. Several matters of business were then speedily despatched viz Treasurer and Tyler Elected, Bye laws approved as was confirmation of the Members of the Consecrating Team as Honorary Members. Alms were collected and the Consecrating Offcers withdrew. The business of the Lodge continued with W.Bro. Graham Pearce declared Master elect for the ensuing year and W.Bro. Rodney Marshall declared Treasurer. Of great importance was the Ballot for six Joining Members, a promising start. The Lodge closed , all adjourned for welcoming sustenance.
The Festive Board was a grand affair with lots of chatter in a full room. We really are getting back to normal, and it felt great. Once the Brethren had taken their fill the toasts were given in good order. The Worshipful Master Fredrick Leslie Davy saying he was really looking forward to his year in office, and that it had been twenty-three years since he had been in the chair. He thanked whole heartedly the Right Worshipful Provincial Grand Master James Steggles G.M.R.A.C. and all the consecrating team for their hard work today in performing such a wonderful ceremony. He went on to thank the founding committee for all the work they had done over the last few years in getting us to this special day, without their efforts it just wouldn't have been possible.
The P.G.M during his various responses thanked W.Bro. Les for his very kind words and, him personally for all his work for the Province over the years. He also thanked V. W.Bro. Alan Oldfield Deputy Provincial Grand Master, V. W.Bro. Trevor Bolton Assistant Provincial Grand Master, W. Bro. Roger Quick Provincial Grand Chaplain, W.Bro. Andrew Brown Provincial Director of Ceremonies, W. Bro. Gary Parker Provincial Grand Secretary, the Secretarial team and all the Consecrating officers for their help and support. R.W.Bro. Jim, stressed how important The West Yorkshire Provincial Grand Stewards Lodge of Mark Master Masons No.2018 was going to be; the work they would be doing at events such as our Provincial meetings and, the Festival meeting in 2023 would be invaluable. All members of our Province who held that rank either Grand or Provincial should be encouraged to join this Lodge. All members of our Province who attain that rank in the future should also consider joining as members would be considered for early promotion. This Lodge would be held in the same esteem as The Carl Whitehead Lodge of Royal Ark Mariners No.110.
The visitor's toast was given W. Bro. Derek Walsh who said it had been a great day and a bucket full of fun. Making several references to Rugby. Perhaps he had a premonition of the result that was to be a little later in the day with Ireland beating New Zealand.
A wonderful day was had all. Mark Masons at their best. All having a great deal of fun. No doubt looking forward to their next meeting wherever that may be.
V.W.Bro Duncan Smith P.G.J.O
W.Bro Andrew Johnson Prov.G.S.W