Monday the 30th of May 2022 and the Brethren of Worth Mark Lodge and a sizeable numberof guests gathered to celebrate the consecration of the Lodge which took place on the 23rd ofFebruary 1921. The Lodge was opened and, like a well-oiled bike chain went very smoothly indeed. The Brethren then stood for a few moments in Memorium of Right Worshipful Brother Stephen Davison, Assistant Grand Master. Once the minutes of the previous meeting had been confirmed it was then time to receive the Provincial Grand Master Right Worshipful Brother James Steggles G.M.R.A.C. and other officers of Grand and Provincial Grand Lodge. The Worshipful Master Geoff Emmott welcomed R.W.Bro.Jim and offered the gavel who on this occasion accepted the gavel and thanked him for the courtesy. The Provincial team then all took their respective places. Worshipful Brother Billy Light then read the consecration minutes. The next business was to hear a brief history of the Lodge delivered Worshipful Brother David Lawson in a first-class manner. The history actually being produced Worshipful Brother Terry Gatherum. It had a great deal of interesting information and mentioned the 28 founding members mainly from Bronte Lodge No.535 but also one each from Old York T.I. and Aries No.669.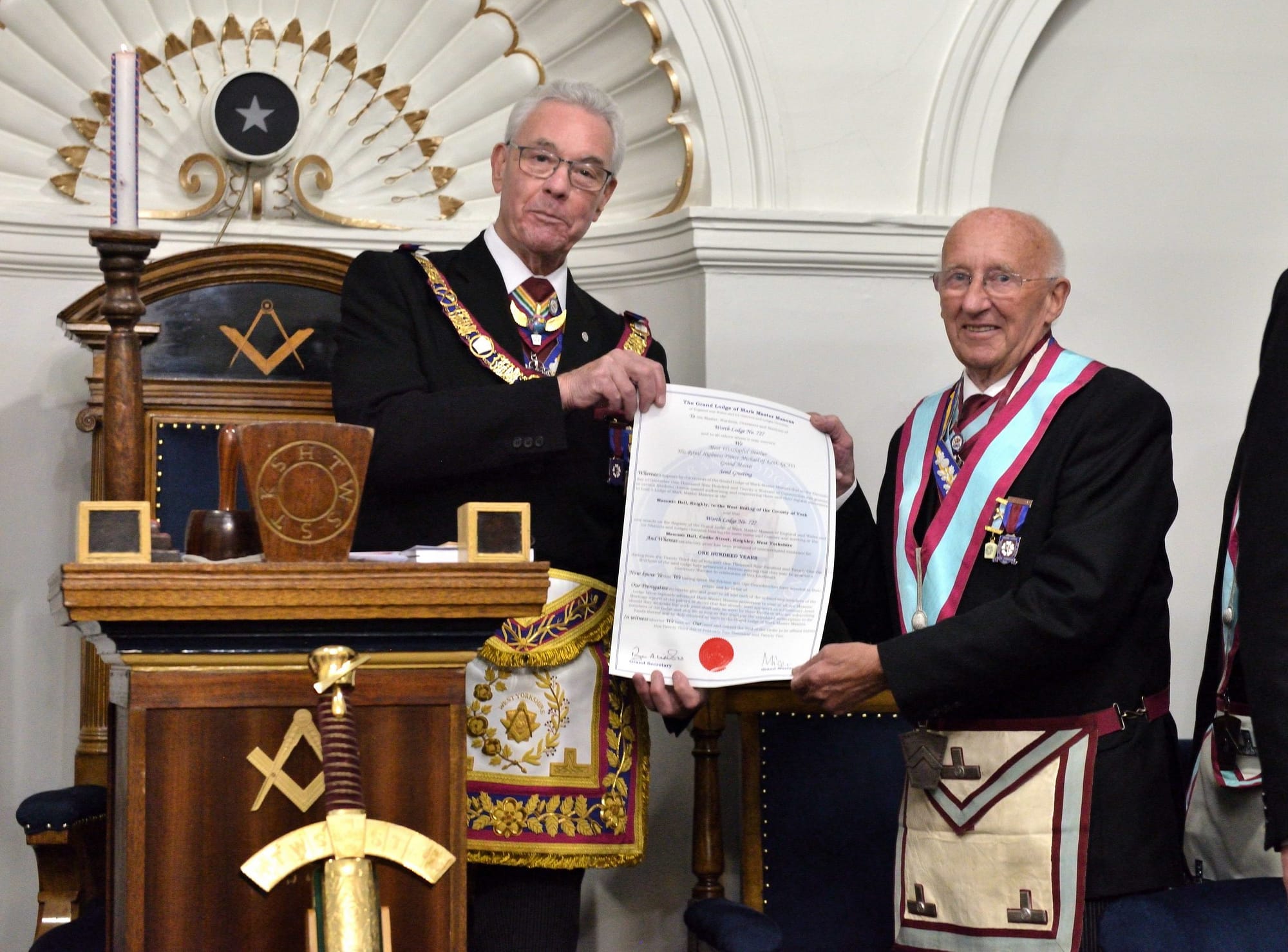 Worshipful Brother Gary Parker then read the Centenary Warrant which R.W.Bro.Jim then presented to W.Bro. Geoff. He also went on to present both Centenary jewels and Provincial Sesquicentenary tokens to the members of Worth Lodge.
The Provincial Chaplain Worshipful Brother Roger Quick then delivered a wonderful oration which was not only interesting but done in that wonderful style which as usual had the Brethren laughing and smiling. If you were to use the Lodge number 727 and travel that number of miles North, West or South of Keighley you would end up in the sea, meaning your satnav would certainly be broken! Or if you were to travel that number of miles East you would be three hours from the nearest Masonic Lodge in Gdansk Poland. Click here to read it in full.

Various other Lodge business was then completed which included a presentation of a very generous cheque towards the 2023 Festival. The Lodge closed and the Brethren retired to a busy festive board. Where, R.W.Bro. Jim spoke about all the wonderful and resolutemembers of Worth Lodge who had worked tirelessly for the Lodge and the Province over the years since its consecration and that they were special people indeed. W.Bro.Geoff in his response thanked everyone for coming and both R.W.Bro.Jim and the team for their work this evening. It had really made it a wonderful evening.
With thanks to W.Bro. Billy Light, and W.Bro.Edward Wilkinson
W.Bro Andrew Johnson P.Prov.G.S.W