Wednesday 13th November 2019, at the Masonic Hall, Southwood, and an excellent attendance witnessed the Centenary meeting of the Lodge. It was opened the Worshipful Master, W.Bro. Andrew Watts, the routine agenda items confirmed, a Ballot was taken for Joseph McNamee which proved positive, An advancement beckons in January, put it in your diary and not only support the Lodge but especially the candidate.
Upon a report, the Provincial Director of Ceremonies, W.Bro. John Vause entered and confirmed that the Provincial Grand Master, R.W.Bro. James Steggles  G.M.R.A.C. was without and demanded admission, No arguments or delay and he entered together with his Deputy, W.Bro. Alan Oldfield, his Assistant, W.Bro. Trevor Bolton and an escort of Provincial officers of the year.  The Gavel was offered and, on this occasion, taken; the Acting Provincial Officers then took post.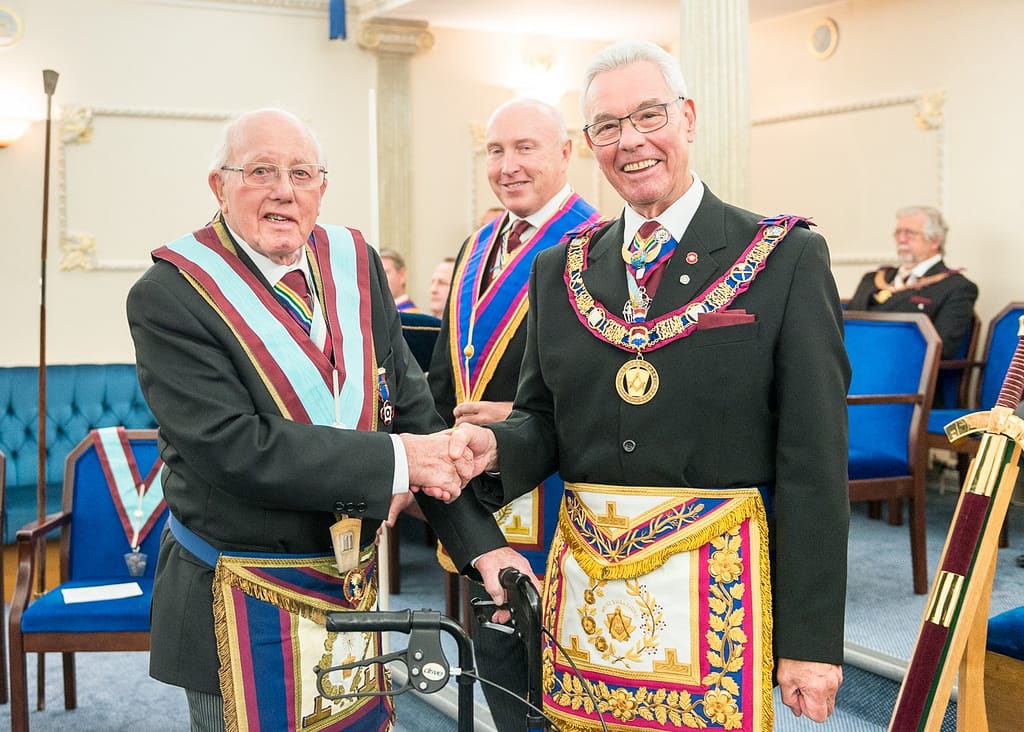 W.Bro.Martin Longbottom read the minutes of the Consecration Meeting and attention turned to W.Bro. Graham Pearce who gave a brief history, here are some of the more important extracts; at the Installation of Worshipful W.Bro Herbert Turner at Fearnley Lodge of MM No58 on the 14th February 1919 the Provincial Grand Master, R.W.Bro. Frederick Cleeves intimated his desire to see a daughter Lodge formed from Fearnley No58, who at that time had eighty eight members, what we would give for that now, At another meeting on 17th September 1919 twenty eight names were put forward as Founders of the new Lodge and the 25th September the petition had been signed all the Founders and everything had been submitted to Grand Lodge.
R.W.Bro. Cleeves then confirmed that the consecration would take place on 15 Oct 1919 assuming everything was in place. The then Provincial Grand Secretary would supply the Consecration Materials, the Crest has been agreed,  music and hymns agreed, Lodge books ordered and, most importantly, Menu determined. Unfortunately due to a strike railwaymen this meeting had to be cancelled. Consecration and Installation rituals both confirmed, it was decided that it would be held on the 12th November 1919. Just one short year after the guns fell silent on the Western Front, the troops had been returning home, many of course would never come home, their bodies never discovered, their final resting place wherever they fell. So here we are at 4pm Wednesday 12th November 1919 to Celebrate the Consecration of the Halifax Lodge MMM No706 in the Province of West Yorkshire
The Consecration of Halifax Lodge No706 brought the number of Mark Lodges in the Province up to 24 and 15 RAM Lodges.  A reminder of some of the past Members, of which many of us will have fond memories; R.W.Bro. James Bramley Morley Joined 19 March 1958 Lodge Secretary in 1973 is Master in 1967. .V.W.Bro.Victor Frank David Smith Joined 12/09/1962 Master 1975/ 85/ 99 and W.Bro. Desmond Ross joined 09/01/1974 Master 1981 2001/2002l.
The Centenary Warrant was read out the Provincial Grand Secretary, W Bro Fraser McPherson and presented to the W.M., W.Bro Andrew Watts R.W.Bro. Jim. The Brethren of Halifax Mark Lodge No706 then assembled and the PGM presented them individually with their Centenary Jewels. At the Festive Board  W.Bro. Andrew presented a Centenary Jewel to R.W.Bro. Jim and R W Bro Brian Batty as a memento of the occasion. A Banner Dedication then took place before which,  R.W.Bro. Jim explained had been repaired Marilyn Longbottom , who was the daughter of the late R.W.Bro James Bramley Morley and wife of Martin the Lodge Secretary,,  especially for this occasion.   The Acting.Prov.G.Chaplain, W Bro. Paul Leach thengave a prayer and the P.G.M. rededicated the Banner and  presented it to W.Bro .Andrew. 
The remaining business on the Summons was then smoothly undertaken and all adjourned to the Festive Board. The Toast to the Halifax Lodge was submitted R.W.Bro. Jim who thanked all for attending and W.Bro's. Martin Longbottom, Graham Pearce and Allan Fisher for all their hard work in preparation, undoubtedly R.W.Bro. Bram would have been very pleased and proud of all concerned, This is a strong Lodge, very proud of its heritage including one hundred and one Masters, yes it does tally, and many Candidates but, most importantly it has survived-and those who are its present custodians now look forward to the next 100 Years.
A celebration that all who witnessed will treasure for many years to come.
Worshipful Brother Duncan Smith, PGSD.
Communications Manager.