Mark Master Masons from both sides of the Pennines assembled at the Masonic Hall, Bottoms to witness the Worshipful Master, W.Bro. Warren Marsden install the Master Elect, and his good friend, Bro.John Fitzpatrick as W.M. for the ensuing year.
He began easing us through the opening procedures in his own languid style, the atmosphere in the Lodge being most friendly, relaxed and welcoming.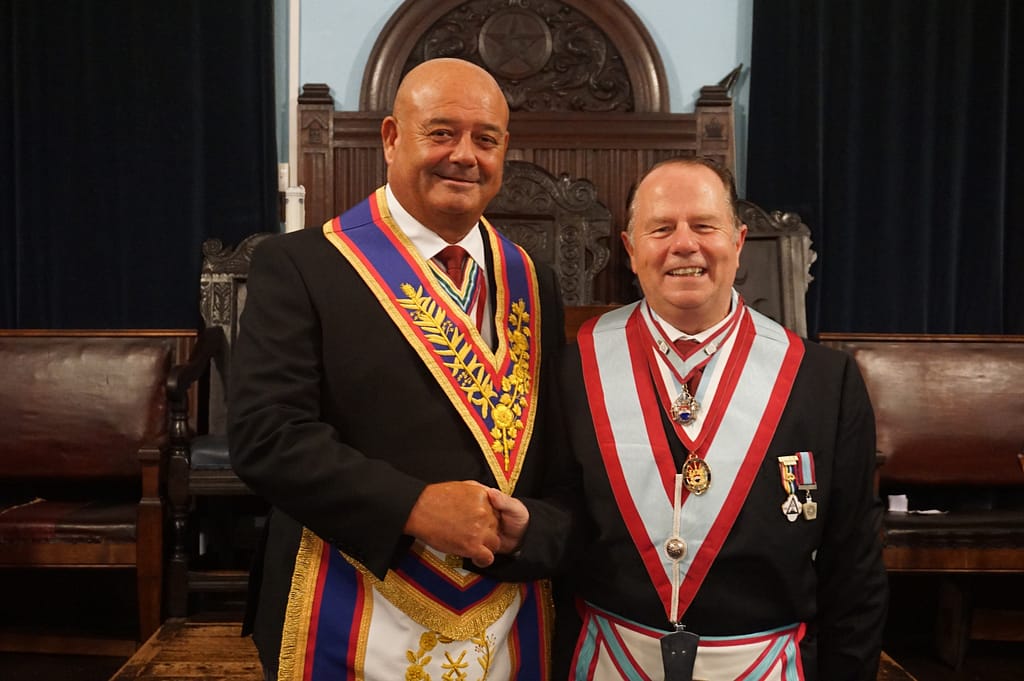 Upon a report, Prov.A.D.C.  Worshipful Brother John Grey was admitted and announced that the Assistant Provincial Grand Master, W.Bro. Trevor Bolton, accompanied Worshipful Brother Sam Cariss, Elected Member of the Charity Committee, was, without and demanded admission. Warren immediately acceded and they were admitted together with  an appropriate escort. Salutations were then firstly given under the direction of W.Bro.John to W.Bro.Trevor and W.Bro.Dr.Rod Taylor, also present, P.Prov.A.P.G.M.  who then passed the responsibility to W.Bro. Mick Jessop, the Lodge D.C. This created some amusement as W.Bro.Mick seemed intent upon promoting any one he called, perhaps he knows something we don't but it was all completed in due form
Attention then turned to the Installation Ceremony and Warren, after W.Bro.Mick had presented the Master Elect posed the questions relevant to the Office which he had carefully written down on slips of paper some of which he flamboyantly discarded, much to the amusement of those present. Time for the Obligation thought Warren and brought Bro.John forward, a cry of halt the D.C., Officers to be thanked, Brethren to be excluded and Installed board to be opened. Order was then restored and W.Bro.John was duly obligated, received the Signs and Secrets and was placed in the Chair of the Lodge. Remaining detail completed, the Brethren were admitted, W.Bro.John proclaimed, he turned to the Appointment and Investiture of his Officers. No surprises and an. experienced squad going forward, this included W.Bro.Rod Dyer as Assistant Director of Ceremonies, Brethren could have been forgiven for thinking that they were in Lilliput of Gulliver's travel fame, both are somewhat vertically challenged but they set an example, which all would do well to follow, of energy, enthusiasm and commitment.
The Addresses ere then presented as follows
Worshipful Master​​​ W.Bro. Mick Jessop,
Wardens​​​​ W.Bro.David Leach,
Overseers​​​ ​W.Bro.Richard Jessop and
Brethren​​​​ W.Bro. Trevor Bolton Asst.Prov.G.M.
all of which were sincerely and professionally presented.
W.Bro.David Leach then presented the Key Stone and Grand Patron Charity Collarets to W.Bro.John in excellent fashion, W.Bro.David is one of the best ritualists in the Province, a charming, quiet man.
The Festive Board beckoned and was eagerly consumed, Toasts then followed with that to the Province formally delivered the S.W., W.Bro.Richard Jessop. In his response W. Bro.Trevor congratulated W.Bro.John, who incidentally is affectionately known as the 'Provincial Foot stool, a reference to his height, but who is now firmly on the throne as W.M. of his Lodge. Attention was then drawn to the Responsibilities of the Offices of Charity Steward and Almoner, one of which is to attend the A.G.M. and half yearly meetings of the Trust. At the last meeting, held at Pontefract on September 7th, fifteen Lodges were not represented, shocking, let us hope that this was the exception.
Notes for your Diaries;
Almoners Luncheon Monday, 4th Nov. at Tapton hall and Monday, 6th April 2020 Cedar Court, Ainley Top
Remembrance Day Sunday Lunch, 10th November at Westbourne House, Otley.
Centenary meeting for Halifax Lodge of MMM. No.706. Wednesday 13th Nov.
Masquerade ball at the Mercure Hotel, Bingley on Saturday, 30th November, Overnight package selling out fast.
Annual Carol Service at Brighouse Methodist Church on Sunday, 8h December.
Annual Meeting 7th March 2020 at Otley.
The Toast to the Charities was sincerely presented W.Bro.Ken Lambshead , the response from W.Bro.Sam who confirmed that the Trust is in good order and meeting the obligations set out in the Trust Deed. In the past year £41k has been spent on worthy causes such as the Almoners Luncheons and the Annual Holiday to St Anne's, A further £13 has been provided for personal assistance to Brethren in need, In addition arrangements have been made with West Riding Masonic Charities for the Trust to use the good offices of their Care and Support staff, at no cost, for the next year, This is excellent news and will provide much needed back up for our sole Welfare officer, Mrs Liz Nowell,
The remaining Toasts were quickly dealt with as time pressed and we all wended our respective ways home.
Smile, be happy, you are a Mark Master Mason
Worshipful Brother Duncan Smith P.G.S.D.
Communications Manager