A busy night was planned for Aries Lodge on the 10th of March 2022. Not only was it Installation night but a candidate to Advance as well. The first since 2017. Unfortunately, the candidate was admitted to hospital just hours before the meeting. All is well and the ritual will now of course be even better with a ceremony for the candidate now planned in June.
True to Mark Masonry the evening continued, and The Worshipful Master Michael Astley opened the Lodge.
A report was given and W. Bro Andrew Brown, the Personal Representative of the R.W. Provincial Grand Master, along with W.Bro Paul Levey, Representative of the charity Committee were admitted.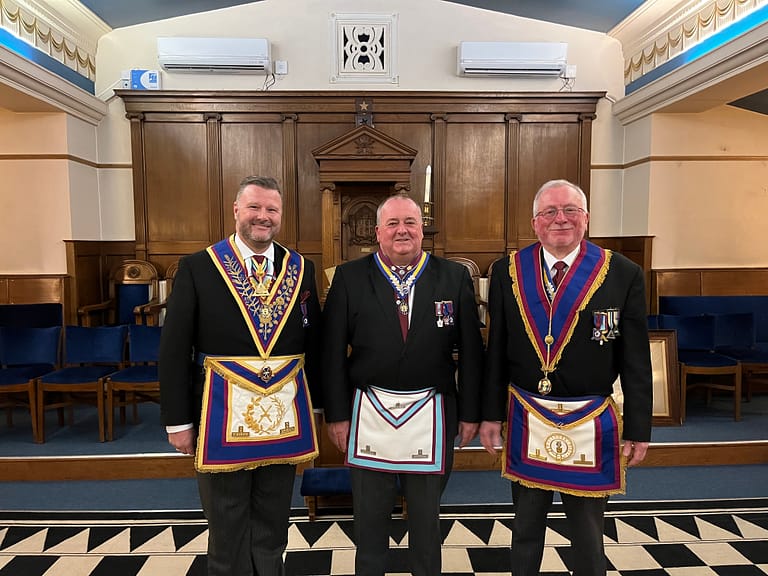 The Provincial Assistant Director of Ceremonies W. Bro Edward Wilkinson also the Aries lodge D.C. managed the evening in a fantastic manner. Carefully watched of course W.Bro. Andrew Brown!
The dispensation read W.Bro. Michael Astley was then Proclaimed as Worshipful Master and subsequently appointed all his officers taking several Brethren surprise not unusual in any Masonic Lodge. At the appointment of the Senior Deacon the Director of ceremonies W,Bro. Edward claimed he had never heard of W.Bro Andrew Johnson and we should move on, this causing a great deal of laughter. The magic of the Mark!
The addresses were given in excellent manner and normal business continued. One of the items was to elect a membership coordinator, which is a new role to help reinvigorate the membership of the Lodge, this was happily accepted W.Bro Philip Harrison.
The meeting was then closed and the Brethren retired to an amazing Festive Board of Leak and Potato Soup, Steak Pie with Chocolate Sponge to finish.
The toasts commenced, all keeping under 4 minutes as requested the Provincial Grand Master.  Covering such topics as the MC2 cycle challenge and the forth coming Provincial Grand Lodge meeting at Bradford Grammar School.  There was even time for Aries Lodge to present a very generous cheque to support the R.A.M. Lodges to Gold Patron Award.  All leaving happy, fulfilled and, well before 10.00 p.m.
A wonderful evening in a wonderful order. Brethren spread the word.
W.Bro.Jason Cunningham
Provincial Assistant Grand Secretary