A somewhat cold and rainy arrival at the Masonic Hall Kirkburton but a warm welcome within and eventually I made my way to the Temple to ensure a grandstand seat to see an interloper, one I had not expected at this meeting. The Deputy Provincial Grand Master, Worshipful Brother Alan Odlfield holding out his hand in greeting having decided to enjoy another delightful Mark meeting. How had he managed to keep this quiet, with the help of an accomplice no less, W.Bro.Ian Booth, the message is clear do not trust Boothy when he books others in, and watch Alan, he has a devious side, still great to see him there.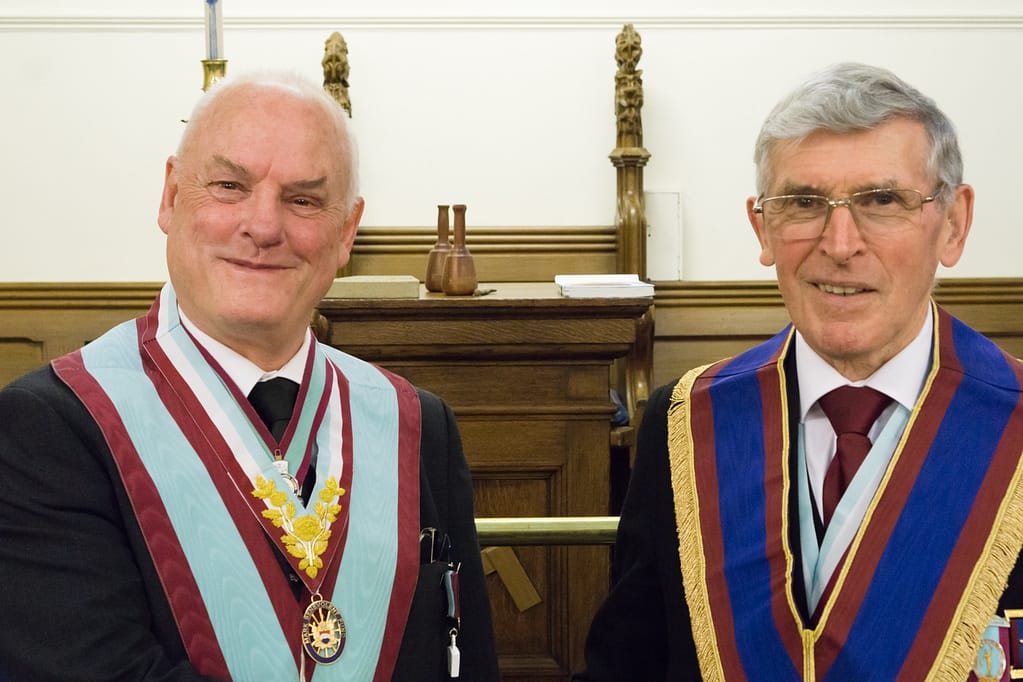 The Worshipful Master, W.Bro.Alan Hampshire, and credit up front to Alan, he has got around and fulfilled one of his key responsibilities of acting as the Ambassador of Beaumont Lodge, he opened the Lodge, minutes confirmed, correspondence read, apologies received, there was a report. The Asst.Prov.G.D.C., W.Bro.John Gray was admitted and advised that the Provincial Grand Junior Warden, W.Bro.Alex Geddes requested admission, he duly joined the happy throng accompanied W.Bro.Sam Cariss, Elected Member of the Charity Committee, all systems were now go. The Master Elect, Brother David Clayton was presented W.Bro.Gary Parker and W.Bro.Alan posed the necessary qualification questions, all with a positive response. He was then duly obligated, signs and secrets explained, invested with the Collar and Jewel and installed in the Chair of Beaumont Lodge. Whilst W.Bro.Alan was a little hesitant, perhaps a touch of nerves, he can be very satisfied with a task sincerely completed.
W.Bro.David then appointed and Invested his Officers, following which the Addresses were submitted in superb fashion, all virtually word perfect by;
Worshipful Master,​​​ W.Bro.Lance Milburn,
Wardens​​​​​, W.Bro.Ian Pattinson,
Overseers​​​​​, W.Bro.Gary Parker and,
Brethren​​​​, ​W.Bro.Alex Geddes.
The remaining agenda items duly despatched, the Lodge was closed. The Festive Board was soup, followed a delicious Roast Beef dinner and a welcome Cheese board to conclude, others had a sponge pudding, I continue to watch my weight!!.
It was left to Worshipful Brother Peter Richmond to propose the Toast to the Province and began expressing thanks to the Provincial Officers of the Lodge who, in his time had provided grateful advice and assistance. He trusted that in due time he would share the same experience. W.Bro.Alex in response brought the thanks of the Provincial Grand Master to all Secretaries, Charity Stewards, D.C.'s and Almoners without which the Province would not function. Attention was then drawn to the Ancient and Honourable Fraternity of Royal Ark Mariners, this being an extension of the Mark Degree. Most provinces enjoy joint membership of the order of 60%, we lag behind at 40%. Very difficult to understand the reasons, R.A.M. has a wonderful story and teachings to tell, speak to one of the members in your own Lodge and give it some thought.
The Toast to the Charities was submitted Worshipful Brother Chris Carruthers who spoke enthusiastically about the Classic cars on the Square event which will take place on the 23rd June, all proceeds for the Festival. Full details now on the web site, it will certainly be worth a visit so put it in your diaries now. Responding W.Bro.Sam reminded us that we are very fortunate to have the Cleeves and Whitehead Trust which renders speedy relief when required, no other Province is so endowed. The Charity, despite a significant reduction in income due to the Festival, is still fully complying with its objectives, and I have no doubt will continue to the end of the Festival and beyond. The percentage of Brethren contributing standing order remains stubbornly static at 28%, exactly as it was some ten years or so ago when I became the Chairman of trustees. So, no progress in that period, please think again, the help the MBF gives on our behalf to the likes of 'Hope For Tomorrow' and St John Ambulance which fills us with pride will only be sustainable if we look to ourselves, a moment for reflection Brethren. In the meantime and as ever;
Brethren Smile, be happy, we are all Mark Master Masons.
Worshipful Brother Duncan Smith P.G.S.D.
Communications Manager