Planning began back in January 2020 to celebrate this event in the March or May. But of course, the World went into lockdown, and everything went on hold until now Wednesday 16th March 2022. 2 years late!
During the planning, the Lodge was contacted by Mrs Yvonne Denby, the daughter of the late Worshipful Brother Herbert (Bert) Jackson who had passed to the Grand Lodge above at the age of 89. W.Bro. Berthad a great affection for Ainsty Lodge and because of this Mrs Denby wanted to present a gift to the Lodge in memory of her Father. It was agreed that a port decanter, suitably engraved, would be a great item to be used at the Installation meeting each year and which his name would continue to be remembered in the lodge.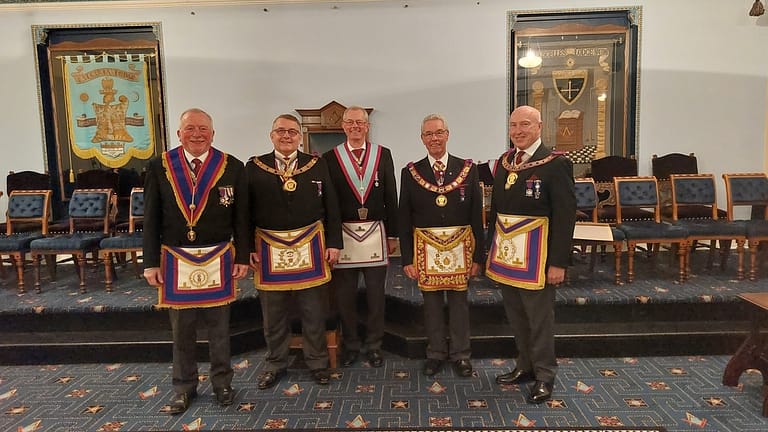 In October 2021, following the resumption of Masonic meetings, Worshipful Brother Jim Brown was installed as Master and planning began again. It was agreed that W.Bro. Jim would be proclaimed for a further year at the March meeting, meaning the celebration could take place on the actual anniversary month, just 2 years late!
Unfortunately, Mrs Denwas unable to attend, but, her niece, Miss Keeley Jackson, was able to attend kand presented the decanter to the Master, W.Bro. Jim, in the Temple at WetherMasonic Hall prior to the Lodge opening.
The Lodge was opened in due form in the presence of Right Worshipful Brother James Steggles GMRAC Provincial Grand Master, Very Worshipful Brother Alan Oldfield Deputy Prov.G.M., Right Worshipful Brother Brian M.Batty, Past Prov.G.M., and other distinguished Brethren. The Master was then proclaimed in a simple but well delivered manner and salutations given. A brief history of the lodge was given Worshipful Brother Gerald A. G. Barker. This was followed the presentation of a special Certificate, issued the Provincial Grand Master, celebrating the lodge's 25th Anniversary.
The brethren retired to a festive board which was first class.
R.W.Bro. Brian M. Batty, who had been the Installing Master at the Consecration of the Lodge, delivered a fine toast to the lodge and its future and talked about the 6 Brethren who instigated the forming of Ainsty and such great names as Right Worshipful Brother George Henry Philip Birch who was the Provincial Grand Master at the time. It can be read in full by clicking here.

R.W.Bro. James Steggles, a Founder of the lodge suitably responded mentioning an incredibly young Very Worshipful Brother John F. Clough in short trousers! W.Bro. Gerry Barker looking like a teenager and R.W. Bro Brian M. Batty, well just never looking any older! Wonderful memories.
A wonderful evening with everyone being presented with a celebration gift. And even a slice of cake, which for obvious reasons never made it to the car. Never mind to our family awaiting our arrival home.
Just Fabulous!
W. Bro.Andrew Johnson
Communications Manager.