What a wonderful evening at Worth No.727 on Monday, 18th February at the Masonic Hall in Keighley. From the point of arrival, warm welcome from all, and clear that brotherly love was the order of the day. I will say at the outset that some of the performers in the enactment tableau did not distinguish themselves in the ritual skills but, as I have said before, ritual and ceremonial are the Form of Freemasonry, the Substance is our Precepts, the code of conduct that distinguishes us fro the world at large. This was very much in the air at Worth all the Brethren but particularly the Worshipful Master, Worshipful Brother Chris Rushton and, no surprised here, Very Worshipful Brother Keith Hardwick Trott, otherwise known as 'Trotty' but more of that later.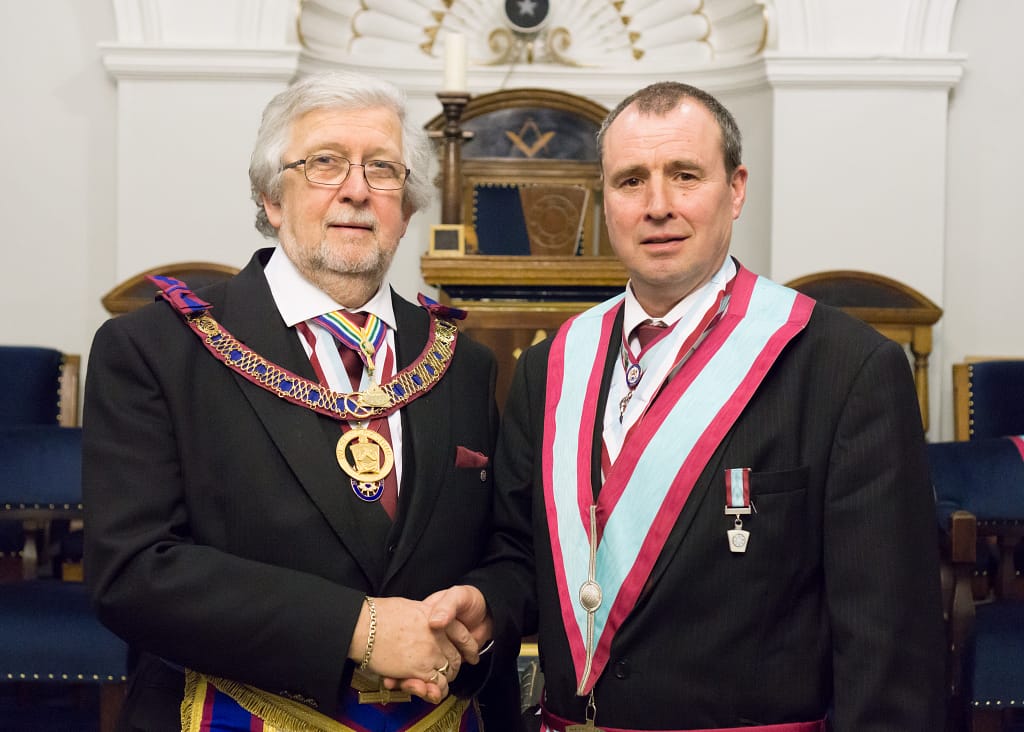 The Lodge was opened in due form W.Bro.Chris when , upon a report, the Provincial Director of Ceremonies, Worshipful Brother John Vause was admitted and announced that the Assistant Provincial Grand Master, Worshipful Brother Trevor Bolton was eager to be present. Accordingly he entered with an Escort of Provincial Grand Lodge Officers of the year, greeted W.Bro.Chris and took his seat. Offered the Gavel, he thanked Chris for the courtesy but was delighted to be an onlooker on this occasion. A Demonstration of the Advancement Ceremony was then undertaken with Brother Nigel Atkins acting as candidate being guided and prompted the Senior Deacon, 'Trotty' and Junior Deacon, W.Bro.Adrian Higgins. Unsurprisingly all went smoothly with the W.M. Obligating Bro.Nigel and V,W,Bro,Keith steering him through the ceremony as you would expect from a most experienced and competent Mark Mason. There was no hesitation when commanded to act as all knew that when Keith spoke, all listened. This was particularly evident with the Overseers where we were treated to some novel and interesting methods and the occasional ad lib which did not disappoint.
Order was then restored when W.Bro. Terry Gatherum explained the Signs and Secrets in exemplary fashion, a lesson to all there and V,W,Bro,Keith took the address to the Badge. W.Bro. Billy Light then took the floor to exquisitely discharge the Working Tools, followed the Warrant, Book of Constitutions and Bye laws. He then turned to the Conclusion where he had one of those forgetful moments and required help. It is important to note that he had no ritual book and is the Lodge Secretary, it is not easy to be taking notes and then turn to ritual as I know to my cost, well done W.Bro.Billy.
The Lodge then properly closed, the Festive Board was then taken, main course Gammon, and enjoyed with relish. The Toast to the Province was then proffered Worshipful Brother Geoff Driver who congratulated his colleagues for their assiduity and commitment, they keep the wheels well oiled and on track. They are the back bone of of our order, and most others I suspect, being the largest contingent in our membership. In reply W.Bro.Trevor said how much he had enjoyed the evening, the camaraderie was there for all to see. Even hen'Trotty' when replying to a request from the senior Overseer responded in booming tones, the password was out, oh woe, not likely everyone in the room was a Mark Master Mason. Note for your diaries, the Provincial Meeting of the Province of West Yorkshire will take place at Bradford Grammar School on Saturday, 13th April. It is a responsibility of all Worshipful Masters to attend and represent their Lodges, hopefully accompanied their Wardens and, perhaps, Brethren. This is your opportunity to visit the Lodge of R.W.Bro. James Steggles G.M.R.A.C, our Provincial Grand Master, let us not let him down. Additionally please refer to the web site home page where there are details of two events , both of which should be amusing and enjoyable. Pig race at Slaithwaite and Desert Island Discs at Danum. They are worthy of your support and underline the desire to make Festival Fund raising a pleasure,not a toil.
Smile, be happy, you area Mark master Mason
Worshipful Brother Duncan Smith P.G.S.D.
Communications Manager