Mariners gathered at Pontefract Masonic Hall to witness the elevation of Bro. Trevor Brown, a member of Gothic Lodge of MMM No. 1018.  Whilst not a large number present, what it may have lacked in volume was more than compensated the attendance of six holders of Royal Ark Mariner Grand rank and a member of  a select band, those holding the West Yorkshire Royal Ark Mariner Distinguished Service Award, W.Bro. David Marcus,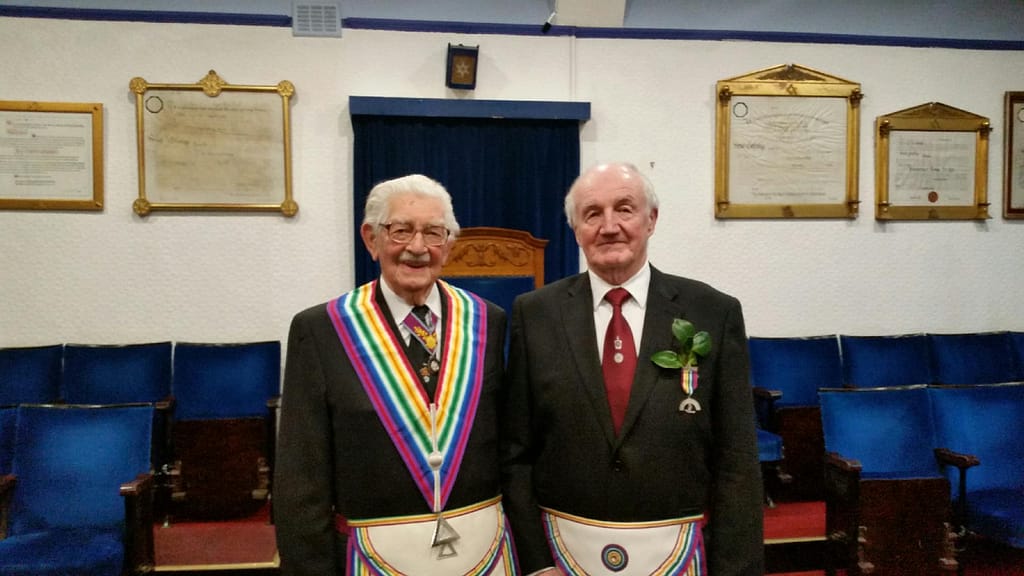 The Worshipful Commander, W.Bro. John Gray swiftly dealt with the initial procedural matters when a ballot was taken for Bro. Trevor, proving positive,, his Proposer, the Worshipful Commander and Seconder, W.Bro. Peter Higgins, quite relieved. Duly prepared, the candidate entered under the guidance of the Senior Deacon, W.Bro. John Whitworth, assisted the Junior Deacon, W.Bro. Lance Milburn, a visitor.. He was obligated in fine style W.Bro. John supported his Wardens, W.Bro. Paul Levey and Bro. Algis Vasis , pleased to be able to report not a ritual book in sight.
The steps having been demonstrated the Senior Deacon, the explanation of the secrets were in the safe hands of W.Bro. Harry Stogdale , delivering them in fine form. The Working Tools and Triangular Form of the Lodge were explained W.Bro. Eric Gosnay, celebrating his ninety ninth birthday in February and, whilst an occasional prompt was heard, it was a performance of which he can be justifiably very proud, a shining example to all. The Elevation ceremony was then concluded W.Bro. Peter Higgins describing the nature of the nine steps, including the five cardinal virtues of the Fraternity, a delight to hear. The remaining items on the Summons were then despatched and all adjourned to the Mess for suitable refreshment.
The Toast to the Worshipful Commander was given the Acting Senior Warden, W.Bro. Peter Higgins who, in fine football parlance, congratulated him upon an excellent job of leading the line. I have to note that very few 'Leaders of the Line' are the stature of W.Bro. John. W.Bro. John replied appropriately , thanking all who had stepped into Office at short notice including visitors. He the proposed the Toast to his candidate intimating that there had been competition for his signature but that he had got there first to persuade his good friend to come to Pontefracr. Bro. Trevor was looking forward to many happy days in the Fraternity of Royal Ark Mariner where I am convinced that, given his Thespian qualities , future ceremonies will take on a different hue.
A most enjoyable Royal Ark Mariner meeting, Smile and be happy, we are Royal Ark Mariners.
Worshipful Brother Duncan Smith, PGSD.
Communications Manager