As part of his Charitable Fundraising activities, W. Bro. John assisted his hard- working wife Carol, held two concerts at Pontefract Masonic Hall. These were on the 26th October, when forty-nine attended and the 2nd November when the Hall was virtually full with seventy-eight eager to have a sing along. They included Mark Master Masons and their Ladies but also members of a Choir where John is a member. As usual it began at 7 o'clock ending at 10.40 approx with a break for supper, a delicious Meat Pie, mushy peas and mash – just the right mix for a cold wet evening.
The opening number was "Leaving on a Jet Plane" – give yourself a pat on the back for remembering John Denver, "By Bye Love", "Calendar Girls" and "Batchelor Boy" followed, Cliff fans giving full voice there. A real classic "California Dreaming" brought back memories of Mamma Cass, whilst the 1962 hit for John Leyton had most of us singing "Johnny Remember Me", – yes I will always remember that one, couldn't help myself, finishing with Donovan and "Jennifer Juniper".
All the activity gave rise to an alcoholic taster and supper before John was hard at work again with part two and the "Streets of London" made famous Ralph McTell. "Raindrops keep falling on my head" was next, made famous Sacha Distel but it was written Burt Bacharach for the film, Butch Cassidy and the Sun Dance Kid. We then had a Eurovision Song Contest winner, can you remember when we used to have success near the top? "Puppet on a String" Petula Clark. "Mr Tambourine Man" followed with "Sweet Caroline" – no need to tell you Neil Diamond, brought the evening to a close.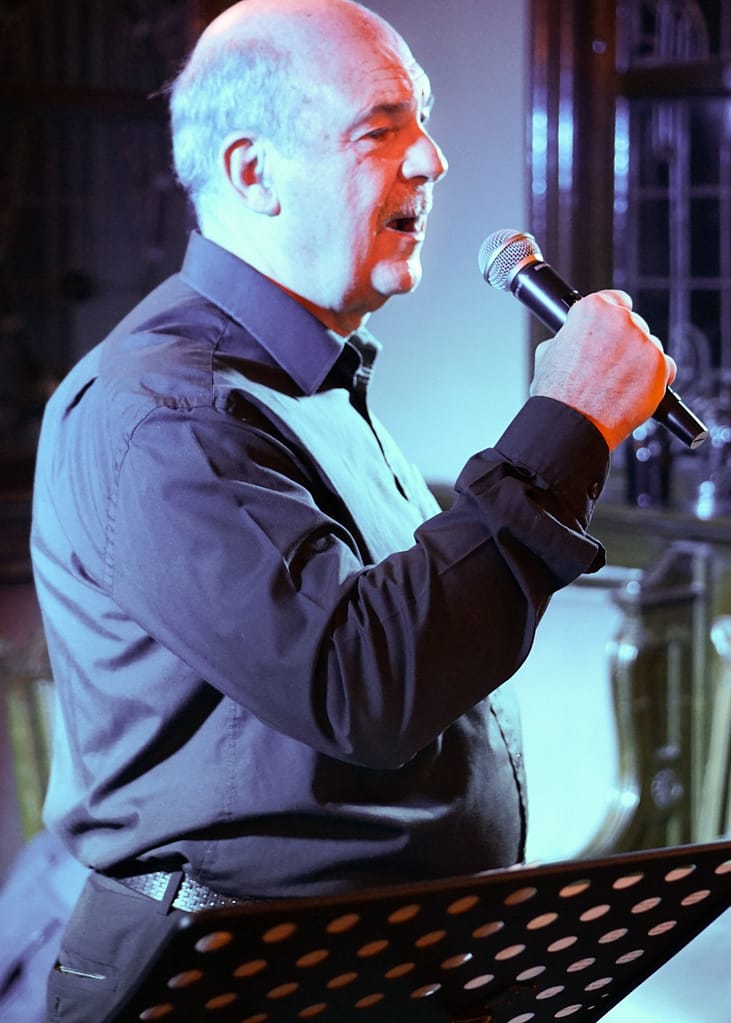 The numbers had been interspersed with some stand-up comedy that was well received and some anecdotes concerning members of the audience. At one stage John urged W.Bro. Ian Lewis, Prov. G.S.W not to say anything about something that had happened in the past, RED RAG; what he was referring to was a Lodge Ladies Night at Castleford that he attended dressed in a Kilt to perform the Ladies song. Unfortunately, as he stood on the table during the singing of the last verse Ian's wife Mel. looking up. was given quite a shock but after composing herself said "No problem – I do not have a magnifying glass with me!".
A cheque was presented to the Festival Fund in the sum of £1330, John has now raised over £150,000 for charities in general and £35,000 for Mark Charities. His personal contribution in fundraising for the 2023 MBF festival now stands at £17,000.
What a Star! Now for next year….
Worshipful Brother Duncan Smith P.G.S.D.
Communications Manager