Monday, 17th June 2019 and the decks were scrubbed and cleaned and the Crew, and visiting Matelots from vessels moored in the Dewsbury Harbour, gathered on the foredeck to witness the Installation of the First Lieutenant, the Senior Warden, Brother Nahar Singh Somel as Captain of the good ship Dewbury Lodge of RAM No.641.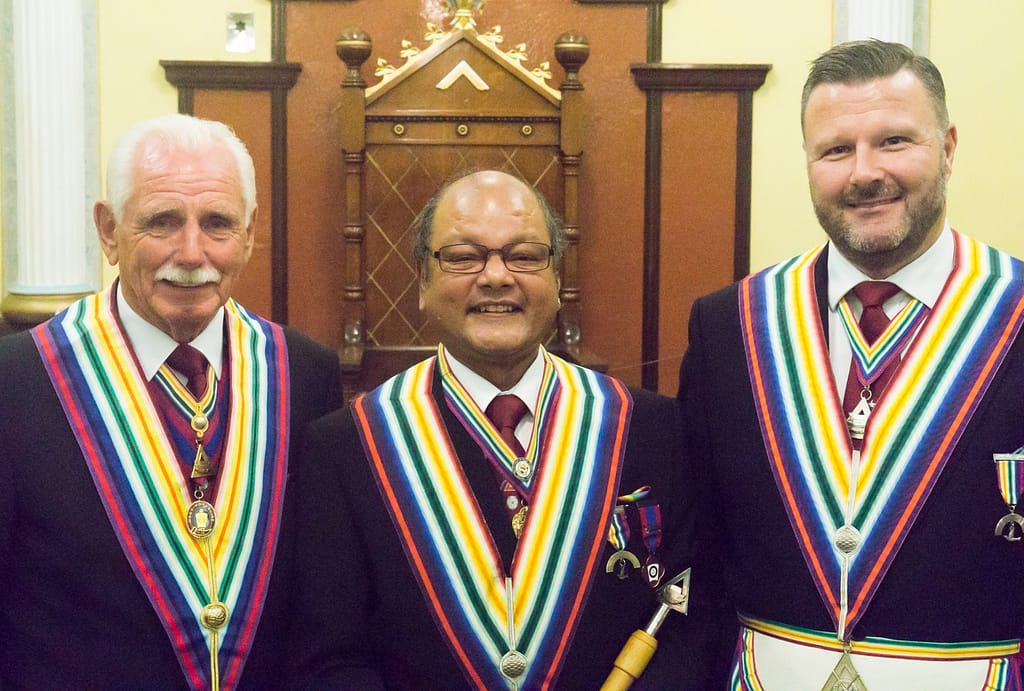 Proceedings were commenced the current Skipper, W.C.Warren Marsden who also has secretarial duties at the local Admiralty offices and who provided a warm welcome for the eight visitors who attended. After the Lodge was opened, the first duty was to welcome a visiting Post Captain whose last visit, acting as the representative of PGM ,this was to be, W,.Bro.Robert Corfield, Past Deputy Provincial Grand Master, a most enthusiastic and committed servant of the Province for almost thirty years, our grateful thanks for all that you have done Bob. Housekeeping issues taken, attention turned to Bro.Nahar and all those below the rank of an Installed Commander were asked to withdraw. This came a little early for the D of C, W.Bro.Andrew Brown who suggested that Warren may wish to address his Officers, Warren agreed and completed with smiles all around and this set the tone, a relaxed and warm atmosphere thoroughly appreciated all on deck.
Having been duly obligated, the signs and secrets imparted, Badge, Collar and Jewel invested, Worshipful Brother Nahar Somel was placed in the chair and the remaining aspect of the inner workings completed. The Brethren below the rank of an Installed Commander then returned to the Lodge to witness W.Bro.David Taylor explain the Key Stone Collaret in a clear, measured and authoritative style, not a surprise he has done it before and he is a Huddersfield Town fan!. Officers for the coming year were then appointed and invested to be followed the Address to the Worshipful Commander given, in a most sincere fashion, W.Bro.Brian Page. That completed the Ceremony of Installation, the next item on the agenda being the presentation of the Past Commanders Jewel. This was in the safe hands of W.Bro.Alan Oldfield, Deputy Provincial Grand Master who drew attention to the fact that Warren had only been a member of the Dewsbury RAM for three years when Installed, at this rate he will be PGM in five years.  Closing formalities duly despatched , all adjourned to the Mess Deck for much needed victuals.
The Toast to the Province was submitted W.Bro.Brian Page who recalled that in all the years he had known W.Bro.Bob he had always had a smile upon his face and a cheery disposition, so true. Responding, with some emotion, he acknowledged that this was a significant day in his masonic life but we all have to move on. He congratulated W.Bro.Nahar on attaining the Chair, commenting that this Lodge was where a line up of where the Who's who of the Province can be seen. He finished encouraging all Royal Ark Mariners to spread the word about this truly wonderful, and enjoyable, Fraternity of ours.
Dates for your diaries;
24th July, Combined Sheffield Lodges Meeting at Tapton, the Assistant Grand Master will be joining us.
5th October, Provincial Royal Ark Mariner meeting at Tapton where those receiving Provincial Honours will be invested.
10th September Grand Mark Lodge Investiture meeting for those receiving Past Grand rank promotion. Another day to be there for our West Yorkshire Brethren.
30th November Gala Ball, Mercure Hotel, Bingley,
8th December Carol Service at Brighouse,
10th December, Grand assembly of Royal Ark Mariners at Grand Lodge, support our Brethren receiving Grand Rank.
I have to mention that when presenting the toast to the visitors, Bro.Steven Broadbent thanked all who had attended, as he put it "a few from several". The response was in the hands of W.Bro Andrew Jagger, who did not disappoint commenting that the meeting and greeting were superb, a fantastic meal and, in the Temple he had witnessed aspects not seen before. Laughter followed, what an appropriate way to end a wonderful Royal Ark Mariner evening, this is what it is about;
Smile, be happy, and enjoy your Royal Ark Mariner Masonry.
Worshipful Brother Duncan Smith P.G.S.D.
Communications Manager