The Annual General Meeting of the Association took place at the Masonic hall Hipperholme on Thursday, the 25th April when it was good to see a generous attendance the Members, that despite the conflict of dates with Peace Mark Lodge. All enjoyed a most welcome Festive Board of home made Tomato and Basil Soup, Meat and Potato Pie with mash and selection of vegetables, all topped off with Apple crumble and custard.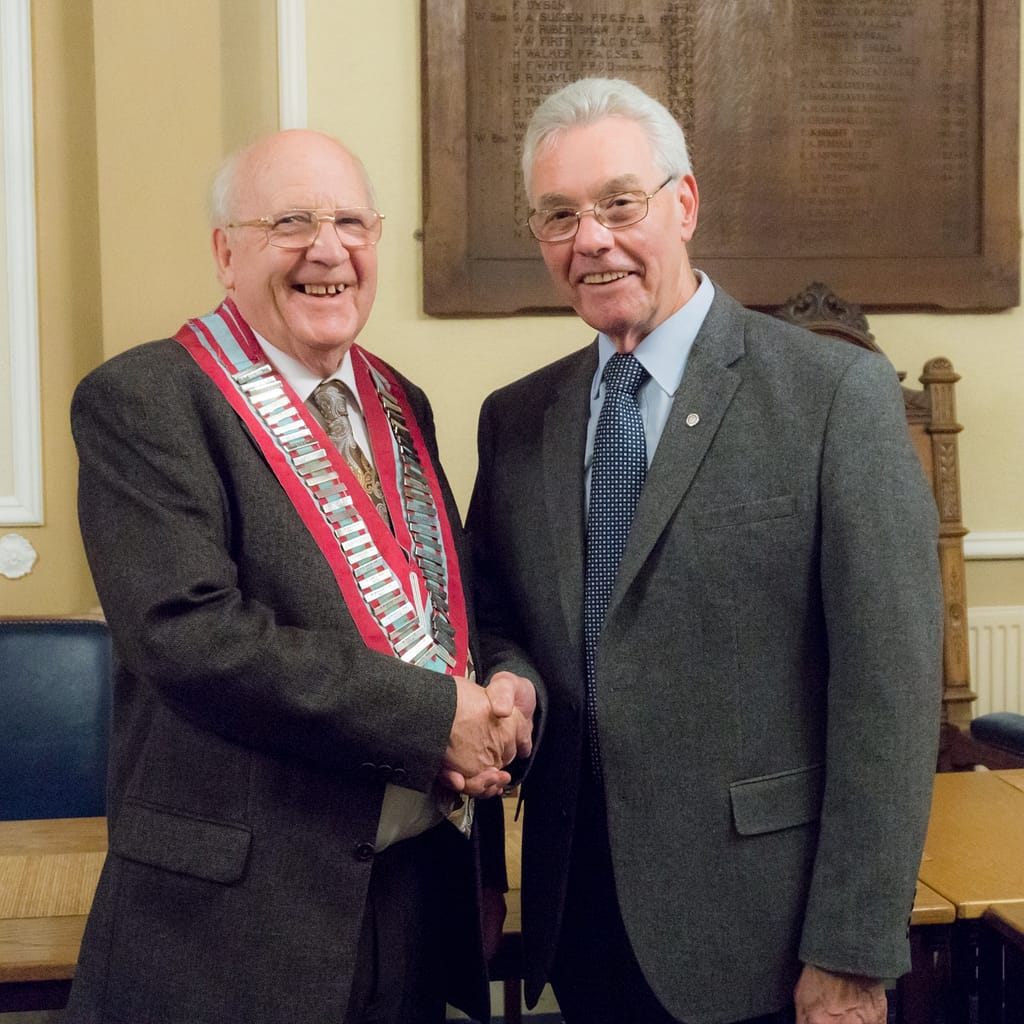 The tables cleared, the Meeting was then formally opened the President, Worshipful Brother Steven Spooner who began welcoming the Provincial Grand Master, Right Worshipful Brother James Steggles, G.M.R.A.C. who was accompanied his Deputy and Assistant Grand Masters, respectively Worshipful Brother Alan Oldfield and Worshipful Brother Trevor Bolton, up date, Angus the Dog is back to chemo Monday 29th, hope all goes well. He also thanked all for their attendance, particularly representatives from the Bradford and Districts Association Worshipful Brother Andrew Johnson, accompanied Worshipful Brother Edward Wilkinson. Sadly I have to report again that there were no representatives from either the Leeds or South Yorkshire Associations. It would be a good idea if they could all manage to attend one of the remaining A.G.M.S., is this possible?

W.Bro.Steven had enjoyed an excellent year with numerous visits, stressing that encouraging visiting was the raison d'être of the Associations. He began at Dewsbury which set the tone for the year, a very warm welcome and he was immediately given an Office, this is the Mark and we all join in when required; he also attended both the Leeds and South Yorkshire A,G,M.'s and the South Yorkshire Sunday Lunch. He was particularly impressed with the friendship and banter on his travels and he had made a particular point of standing up at all the Lodges he visited to thank the Association representatives, perhaps an initiative to follow. Finally he paid thanks to the Secretary, Worshipful Brother John Davis and the Treasurer Worshipful Brother Beverley Heywood.

The President then invested his successor, the appointments being;
President, W.Bro.Peter Spence, Lightcliffe Lodge.
Senior Vice President, W.Bro.Lance Milburn, Beaumont lodge and
Junior Vice President, W.Bro.George Foster, Truth Lodge.
No surprises followed with both W. Bro. John and W. Bro. Bev. both being re appointed in their roles of Secretary and Treasurer respectively. W.Bro.Peter has established a list of visits to Association Lodges, the first being Beaumont and a Sunday lunch will take place on the 27th October, full details of all will be sent out By John in the next month. He also thanked W.Bro.Steven for undoubtedly putting the Hudds, Halifax Association firmly on the map in his year, I can vouch for that, he has been everywhere, well done 'Spoons'. Finally a motion was supported to send £250 to Truth Lodge to assist them in achieving Grand Patron status, this makes £500 in total this year.
R.W.Bro.Jim congratulated the Presidential Trio on their appointments and mentioned the five Brethren, members of the Association, who had received First Appointment or Promotion to Grand Rank. He then provided a short synopsis of events at the Provincial Grand Lodge meeting held the previous Saturday at Bradford particularly in respect of the delay caused the meeting overrunning. This year will be busy with the Consecration of a new Provincial Grand Stewards Lodge and the Dedication of a Provincial Royal Royal Ark Mariner Banner; dates for these will be announced shortly. There will also be a meeting of the joint Sheffield Lodges which will take place on 24th July where Jim will be doing the Secrets,  and a Christmas Ball at the Mercure Hotel, Bingley, Saturday 30th November; the year will then be rounded off with the Carol Service at Brighouse on the 8thDecember. In respect of the Festival, the only major event this year is the Perimeter Perambulation involving V.W.Bro.Richard Puttrell and W.Bro.Steve Spooner walking over two hundred and thirty miles over thirteen days, well worthy of your support. On a more local note, W.Bro.John Madigan has arranged another Family Fun Walk twixt Slaithwaite and Marsden for Sunday , 7th July and the 'Classics on the Square' meet at Greenhead on Sunday, 23rdJune, more fun for the Family.
Much to take on board, Remember Be happy, you are a Mark Master Mason
Worshipful Brother Duncan Smith P.G.S.D.
Communications Manager