A wonderful day at Great Queens Street. Brethren from all around the World gathering with one purpose, to attend and support the Brethren who were to receive Grand Rank appointments.
There were six Brethren in total from our wonderful Province:
Appointment to Acting Grand Rank
W.Bro. Andrew J. Brown – Dep.G.D.C.- Eland No.493
First Appointments to Acting Grand Rank
W.Bro. Paul Gareth Bowen – A.G.Org. – Fearnley No.58
W.Bro. Stephen Spooner – G.Stwd. – Brighouse No.753
First Appointments to Past Rank
W.Bro.Ian N.E.Lewis – P.A.G.D.C. – Legiolium No.457
W.Bro. Graham Pearce – P.A.G.D.C. – Halifax 706
W.Bro. John Gray – P.G.St.B. – Pontefract No.878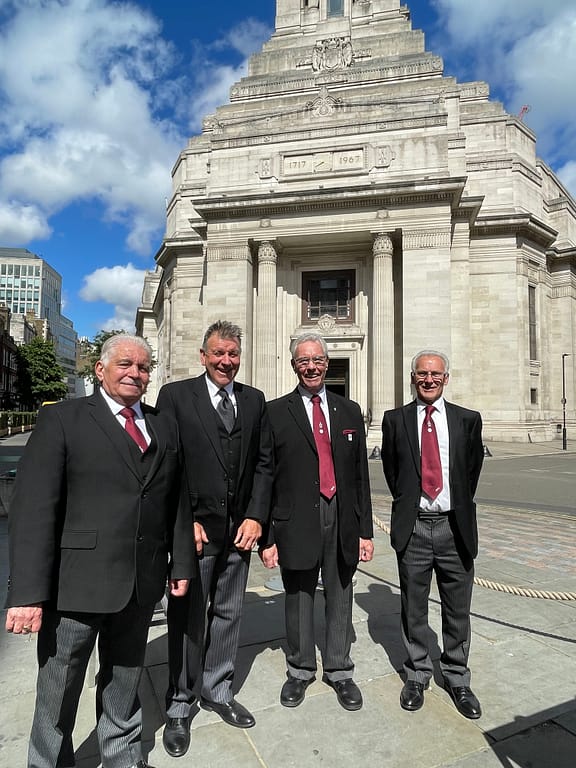 The meeting opened with all the pomp and ceremony you would expect of such a wonderful venue.
The Pro Grand Master Most Worshipful Brother Raymond John Smith opened the meeting and thanked the Brethren for attending. Tributes and a moment of silence was then paid to those Brethren no longer with us. Grand Lodge business was then dealt with which included to recommend grants the trustees of The Mark Benevolent Fund totaling £137,427 to worthy causes during the 3 months ending 31 March 2022.
The next business was to proclaim the Most Worshipful Grand Master. To appoint and proclaim the Most Worshipful Pro Grand Master and the Right Worshipful Deputy Grand Master. Then to appoint, obligate, invest, install and proclaim the Right Worshipful Assistant Grand Master Francis Charles Spencer.
Brethren were then appointed as Grand officers for the year 2022/2023 and also First appointments to Grand Rank given. The West Yorkshire recipients of course being in safe hands with Very Worshipful Brother John Vause our Assistant Provincial Grand Master and Worshipful Brother Edward Wilkinson ensuring they were safely escorted and presented. How V.W.Bro.John manages every year to ensure he escorts the Brethren from West Yorkshire is a well guarded secret!

M.W.Bro. Raymond John Smith during his address thanked the many representatives from Romania, which was received with rapturous applause from the Brethren.

He also went on the launch the Mark promotional initiative 'The Magic of the Mark', which will form the basis of our promotional campaign over the coming months. If you have not yet seen the excellent video it is available on our Website. Certainly worth a watch.
The meeting concluded and as is custom amongst West Yorkshire Brethren they retired to Philomena's to reflect on what a fabulous meeting and day it had been. They were of course joined The Provincial Grand Master Right Worshipful Brother James Steggles G.M.R.A.C.
R.W.Bro.Jim with a smile on his face, no doubt proud of the support given to him and of course the recipients of Grand Lodge honours. Many of the West Yorkshire Brethren were joined the Deputy Provincial Grand Master Very Worshipful Brother Alan Oldfield and members of our neighboring Province of North and East Yorkshire to a meal at the Freemasons Arms. A wonderful day. the Brethren weary but happy and contented.
With thanks to W.Bro. John Fitzpatrick Prov. G.Stwd.
W.Bro.Andrew Johnson P.Prov.G.S.W.
Communications Manager.