The Lodge celebrated its Centenary on Monday 13th of June 2022.  It actually being consecrated on the 25th of February 1922 and, is still batting very strongly indeed!  A 6.00 p.m. start and the Brethren were eager to get to the crease.  The Lodge was swiftly opened, and the dispensation read.  The Worshipful Master Worshipful Brother Steve Spooner then paid tribute to Right Worshipful Brother Stephen Davison Assistant Grand Master.  The Brethren standing for a few moments of silence in respect for the much-loved and respected departed Brother.
Various other Lodge business was then dealt with, and it was time to receive the Provincial Grand Master Right Worshipful Brother James Steggles G.M.R.A.C and other officers of Grand and Provincial Grand Lodge. R.W.Bro. Jim then entered and was greeted with applause from the Brethren present. W.Bro. Steve then welcomed R.W.Bro.Jim and offered him the gavel. On this occasion it was received with thanks and R.W.Bro. Jim then placed his Provincial Officers in their rightful places.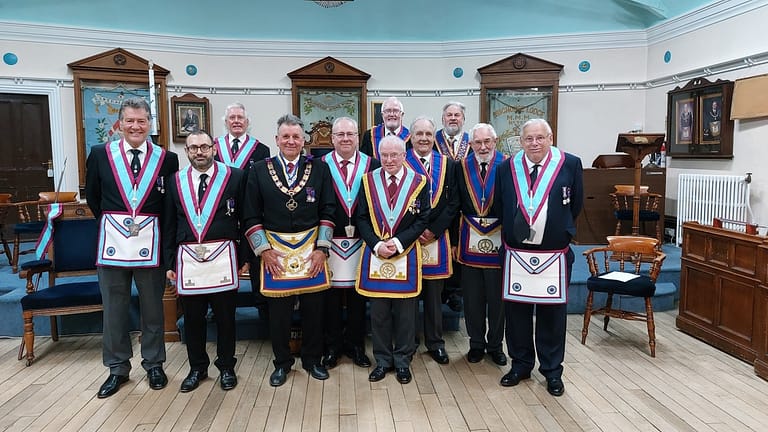 Worshipful Brother Andrew Beardsell then read the minutes of the consecration meeting. W.Bro. Andrew saying he well remembered one of the founding members as he used to deliver meat to him from the local butchers and collected the money. W.Bro. Andrew only being about twelve at the time. It's also worthy of note that there were 156 Brethren at the consecration meeting!
Worshipful Brother David Kenyon then presented an interesting synopsis of the Lodge history. The Lodge being consecrated Right Worshipful Brother Fredrick Cleeves the then Provincial Grand Master. After which R.W.Bro. Jim thanked W.Bro. David for his presentation saying it had been most interesting
The Provincial Grand Secretary Worshipful Brother Gary Parker then read the Centenary warrant which, R.W.Bro. Jim presented to W.Bro.Steve. After which he then presented Centenary jewels to the Brethren of Brighouse Mark Lodge.

Following this the Provincial Grand Chaplain Worshipful Brother Roger Quick gave an oration, as interesting and entertaining as ever. The Halifax Courier must have thought it an interesting event at the time devoting a whole page to it. The British Empire at that time covering a quarter of the World and ruling one in four people on earth. Three days after the event Princess Mary daughter of King George V married Viscount Lascelles, who as Earl of Harewood became our Mark Provincial Grand Master seven years later. More of the oration can be read by clicking here.
After the oration R.W.Bro.Jim handed back the gavel back to W.Bro. Steve saying he better do it now before he got too comfy! All other Lodge business dealt with the Brethren retired to a fantastic festive board.

The toasts were swiftly dealt with saving the most important to that of Brighouse Lodge. R.W.Bro. Jim mentioned how special it was to achieve 100 years and all the special people who had got them there. He had the pleasure of working with many of them. Right Worshipful Brother Brian Maurice Batty Past Provincial Grand Master and very Worshipful Dr. Rod Taylor Past Assistant Provincial Grand Master to mention just two. The 100 years had seen many things such as the formation of the Soviet Union, the discovery of Tutankhamen's tomb and even Huddersfield Town winning the F.A.Cup! He also told of seeing W.Bro.Steve in Lycra only a week ago on the MC2 cycle challenge! Brethren you can still donate to this magnificent achievement some very dedicated Masons. He also said he was looking forward to the next 100 years when we could all celebrate a further milestone in Brighouse Mark Lodge. W.Bro. Steve thanked him for his very kind words about Brighouse Mark and thanked him for all the dedicated work he and his team do week in and week out. A wonderful evening was had all.
W.Bro.Andrew Johnson P.Prov.G.S.W.
Communications Manager