We were met at Westbourne House on Thursday , 4thNovember at a meeting of Wharfedale Lodge of Mark Master Masons No. 1027 to celebrate the Masonic career of W.Bro. Ian Cotton. His 50th Certificate became due on the 4th June 2020 Today was the formal presentation of both his Grand Lodge, and Provincial Grand Lodge Certificate in the hands of the Assistant Provincial Grand Master, now Very Worshipful Brother Trevor Bolton; at the same time he also received his Grand Patron Charity collaret quite a day.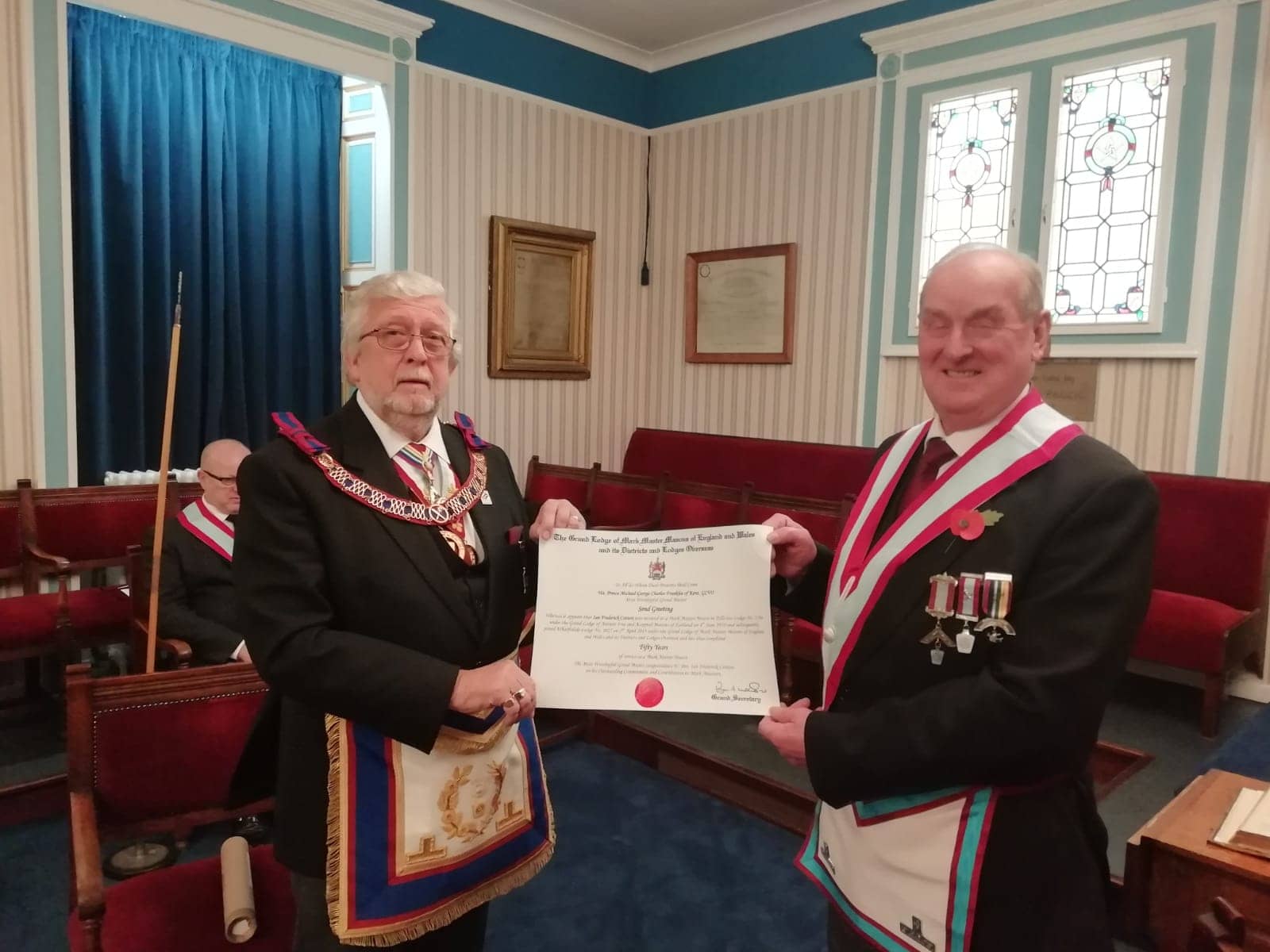 He was born on the 6th July 1947 in Macclesfield Cheshire. Yes not in Scotland as you may have thought. and moved to Glasgow with his mother and sister when 6 years old, after his father died. He completed his schooling and took up an apprenticeship at a Steelworks, which then enabled him to train as an Engineer with British Bakeries where his whole working life was spent, but in numerous locations, finally West Yorkshire in 1989. He ended up in Bradford Bakery in Gain Lane where he eventually took early retirement in 2006.
9th October 1969 he was​ initiated into Lodge Tollcross No 1194, then Advanced into the Mark Lodge within Lodge Tollcross No 1194 in June 1970. December 1981 he was Exalted into Kirkcaldy Royal Arch Chapter No 97. Numerous Installations then followed in Royal Arch and Mark Masonry in 1987/88. In March 1991 he became a member of Horsford Lodge No. 5339 having established his move to West Yorkshire, and became the W.M. in April 2000, later becoming the Lodge Secretary in 2002, a post he still holds. Very sadly his wife, Iris , died in 2013, but after a period of reflection he was prevailed upon long-time friend Barry Massam to join Wharfedale Mark Lodge in April 2015 where he was subsequently Installed as WM in 2018. Shortly after that both Barry, and sadly missed friend Graham Cooper, proposed him into White Rose Lodge No. 77, Allied Masonic Degree.
When I was preparing for this evening, I asked you what hobbies you had, I can see now, this it is Freemasonry and its quite obvious your good at it! Congratulations on a life and Masonic journey well spent.
Courtesy of V.W.Bro. Trevor Bolton, Asst.Prov.G.M.